Volcano Boarding in Nicaragua
A fairly new sport, volcano boarding started in 2005 on the slopes of Cerro Negro in Nicaragua. It was invented by Australian Darryn Webb who was the manager of BigFoot Hostelin, a hostel in the nearby town of Leon, and an avid snowboarding fan. Volcano boarding, however, is different from snowboarding and employs an entirely different technique.
As it is a new sport, equipment is still basic and unrefined. Participants are given a crude piece of plywood reinforced with metal and Formica as well as a one-piece body suit to wear. Assuming either a standing up or sitting down position, volcano boarders can surf down the black ashen slopes with speeds of up to 50mph. Though the charcoal texture of the volcano can seriously hurt the knees, the only danger boarders should be wary about is the threat of the volcano erupting, which last happened in 1999. For this reason, park officials and authorities are on the watch.
At the moment, the Cerro Negro is the only spot in the world that offers volcano boarding.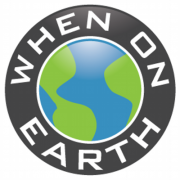 WOE Media
When On Earth Magazine is for people who love travel. We provide informative travel guides, tips, ideas and advice regarding places to see, things to do, what to taste, and much more for world travelers seeking their next dream vacation destination.