The Tufa Towers of Mono Lake Tufa State Natural Reserve in California, USA
Traveling around California won't be complete without visiting the famous Yosemite National Park, which is best known for its deep valleys, high waterfalls, and vast wilderness area. If you're visiting Yosemite, don't forget to make extra time to visit Mono Lake Tufa State Natural Reserve. The reserve is 21 kilometers east of Yosemite National Park, just near the town of Lee Vining, California.
Mono Lake Tufa State Natural Reserve was established to preserve the spectacular rock formations called the "tufa towers". These towers standing on Mono Lake create an otherworldly feel around the area attracting visitors. Tufa towers form in a variety of ways in Mono Lake but if you want to see the greatest concentration of these towers, you can head to the South Tufa Grove. The grove is located just off Highway 120 East at the south end of Mono Lake.
How are tufa towers made? The underwater springs rich in calcium mix with lakewater rich in carbonates. This mixture creates a chemical reaction that builds a calcium carbonate limestone. The calcium carbonate precipitates around the spring and the columns will start growing for decades to centuries.
However, one must take note that these limestone formations differ from the hot spring (thermogene) travertine, which is created from geothermally heated hot-springs but with less porous carbonate deposits. Tufa also differs from a porous volcanic rock called tuff.
Tufa towers grow underwater and can reach to a height of over 9 meters. Nowadays, it's easier to see the tufa system in Mono Lake due to the water diversions in 1941 that made the lake's water level drop dramatically. The drought from 2011 made the lake's water level drop to almost one vertical meter but manage to attract more visitors since more tufa towers became visible.
If you want to visit Mono Lake Tufa State Natural Reserve, it's best to come by during the winter season where there are fewer crowds, serene views, and tufa towers glimmering from the snow crystals that cover them. Layered clothing is recommended.
There are many activities that can be enjoyed around Mono Lake. Hiking, photography, bird watching, swimming, boating, and cross-country skiing are just some of these activities.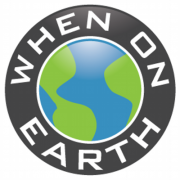 WOE Media
When On Earth Magazine is for people who love travel. We provide informative travel guides, tips, ideas and advice regarding places to see, things to do, what to taste, and much more for world travelers seeking their next dream vacation destination.