The Amazing Colors of Santorini, Greece
Lying on the southern Aegean Sea, Santorini (or Thira) is a cluster of crescent-shaped islands including Nea Kameni, Palea, Aspronissi, Thirassia, and Thira, which collectively form the southernmost member of the Cyclades group of islands. With an area of approximately 73-sq km and multi-colored cliffs ascending 300-m from a caldera drowned in sea, the cluster-island is located 200-km southeast of the mainland of Greece.
Santorini islands are the result of huge volcanic eruptions that caused the collapse of the central part of volcano and creating a large crater (or caldera) afterwards. In fact, the entire compound of the islands is still an active volcano and it is possibly the only volcano that has its crater in the sea.
A big eruption in every 20,000 years had contributed to the creation of these islands with the last eruption occurring in the Minoan Age, 3,600 years ago. It led to the complete destruction of the prehistoric civilization in the locality and the creation of a gigantic 'pot', which is today's Caldera. The most recent volcanic activity on the island occurred in 1950.
Greece is blessed with outlandish natural beauty and Santorini is one of its gems. The Island has grown a reputation as a romantic getaway, serving as a wedding destination for couples around the world. In fact, exchanging the wedding kiss soaked under the last ray of sun while standing on a massive active volcano's rim in the middle of the sea is quite the experience of a lifetime.
The island has cliff-top towns that offer the outstanding views of the deep-blue water of the Aegean. Take a visit to the vineyard-surrounded villages or enjoy the breathtaking beauty of the exquisite beaches with red, white, or black sand and volcanic pebbles.
Apart from the scenic beauty, Santorini offers some of the finest dining experiences of the Cyclades. Some excellent wineries and a brewery will allow you to taste some distinct varieties of wine including Mavrotragano, Aidani, and Assyrtiko. The restaurants here will offer you true Greek culinary and let you treat your taste buds with some famous traditional products like a special kind of goat cheese named hloro tyri, fava, white eggplants, cherry tomatoes, etc.
Santorini will definitely blow your mind with white Cycladic houses, beautiful beaches, clear blue water, and the spectacular red-orange reflection of sunray during the sunset.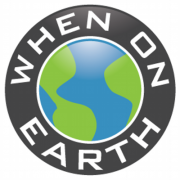 WOE Media
When On Earth Magazine is for people who love travel. We provide informative travel guides, tips, ideas and advice regarding places to see, things to do, what to taste, and much more for world travelers seeking their next dream vacation destination.