Ride the World's Steepest Railway in Australia's Blue Mountains
Train rides now are more than just transportation; across the world, various train routes are solely for the purpose of tourism – to give visitors relaxing and breathtaking views onboard the rails. The Blue Mountains are New South Wales' most visited destination and when you're there, treat yourself to one of the most epic train rides of your life.
Scenic Railway is one of the attractions in Scenic World, giving visitors a different way to enjoy the amazing view and landscape of the famous Blue Mountains. This train ride is more than picturesque. Not only does it offer tremendous views of the famous Blue Mountains, it also happens to be the world's steepest funicular railway in the world.
Scenic Railway
Inclined at 52 degrees, Scenic Railway is the world's steepest train. The glass-roofed tram departs every ten minutes and happens to be one of the best experiences in New South Wales and a top attraction in the Blue Mountains.
Originally serving coal and oil shale mining operations, the tracks carried passengers on weekends. When the mine closed in 1945, it became an attraction established by the Hammon family. It temporarily closed for redevelopment but reopened in April 2013. The term "Scenic Railway" dates back in late 19th century referring to the funfairs in the English seasides.
Its incline give you a different look at the UNESCO Heritage Blue Mountains. Carrying 84 passengers, you can choose different modes, which vary from the Original 52-degree inclination to the Cliffhanger at 64 degrees. The seats can be customized up to 20 degrees.
Scenic Rail Route
The perfect mixture of the natural beauty outside and the steepness of the train gives one of the best travel memories for everyone who visits the Blue Mountains.  The train glides from one clifftop to another, giving you an unobstructed view of Blue Mountains' Jurassic rainforests and rock formations.
Bring your camera, get the thrill of riding this unique train or just enjoy one of the best views in the world. Spot the famous rock formation, the "Three Sisters", gum trees, ravines and other natural formations within the UNESCO Heritage Site of the Blue Mountains. On a clear day, be prepared to see the blue haze of the mountain – the reason why the mountain is called as such – it is beyond words.
Beyond the Scenic Railway, Scenic World also offers the Scenic Skywalk, Scenic Cableway, and the Scenic Skyway, all of which you can pair with the Scenic Railway for a memorable Blue Mountains experience. To plan your Blue Mountains visit, start here.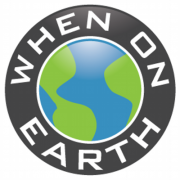 WOE Media
When On Earth Magazine is for people who love travel. We provide informative travel guides, tips, ideas and advice regarding places to see, things to do, what to taste, and much more for world travelers seeking their next dream vacation destination.