In Orbit: Walk In The Air on Giant Nets
Inspired by spider webs, artist Tomás Saraceno installed a 2500 square meters playground 25 meters above the piazza of the K21 in Düsseldorf, Germany. The steel net construction has three different levels spanning the museum's vast cupola, and all levels are accessible to the visitors.
When several people enter the installation simultaneously their motion changes the tension of the steel wires and alters the space between the three levels. This same tension can be perceived by the exhibit's participants, much like a spider within its net, and can be used to communicate with each other to coordinate their movement.
Though 3 tons in weight, In Orbit seems delicate and lightweight, and resembles a surreal landscape described as a sea of clouds. From below, the people walking this net seem to be swimming in the sky.
Saraceno has planned In Orbit over a period of three years and has collaborated with engineers, architects, and biologists to create this installation, which is his most elaborate to this date.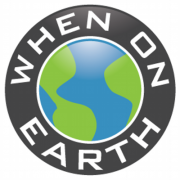 WOE Media
When On Earth Magazine is for people who love travel. We provide informative travel guides, tips, ideas and advice regarding places to see, things to do, what to taste, and much more for world travelers seeking their next dream vacation destination.