Movie Travel Guide: 6 Wes Anderson Movies You Can Visit in Real Life
Wes Anderson fans, here's a treat for you. If you can't get over Wes Anderson's genius eye – evident in all his films, which are full of stunning colorful visuals – then you can take your watching experience to the next level. Instead of feasting your eyes on the screen, drag them to the filming locations that were important pieces in this director's overly-detailed jigsaw puzzle. Visit these places to grab that chance to be a character in his movie even for a day.
1. Rushmore (1998)
If you want to be Max Fischer for a day then head to Houston, Texas which isn't only the main filming site of Rushmore but also Wes Anderson's hometown. Looking for a place to stay isn't hard for a Rushmore fan like you because Hotel ZaZa, Rushmore's Warwick Hotel, is already the right place for you. The hotel is located at 5701 Main Street in Houston's Museum District.
If you need a haircut from Bert (Max Fischer's dad) then go to his real life barbershop in 219 East Eleventh Street. Known as Doug's Barbershop, it is also famous for being a continuously working barbershop since 1929.
How about the real Rushmore Academy? It's the director's alma mater in Houston, St. John's School in 2401 Claremont Lane.
2. The Royal Tenenbaums (2001)
Becoming a Tenenbaum requires you to move to the beautiful places of New York and just like the story, it starts with the 111 Archer Avenue Tenenbaum House which is actually located in Harlem's 339 Convent Avenue.
If everything's just messed up and you want to be away from everything and live in a hotel like Mr. Royal Tenenbaum, the Waldorf Astoria in Park Avenue, Manhattan is your real life Lindbergh Palace Hotel.
It seems like a good idea to meet a loved one you haven't seen for a long time in a fancy restaurant like where Royal and Margot went for a short ice cream meeting. This elegant restaurant is the Grand Prospect Hall located in Park Slope, Brooklyn.
3. The Life Aquatic with Steve Zissou (2004)
Steve Zissou is on a mission to catch and kill the Jaguar Shark that ate his partner Esteban. Since the film is about aquatic adventures, most of the settings besides the yacht interiors are the magnificent blue waters. The Steve Zissou yacht cruised through the Bay of Naples from Venice and around Ponza Island which is a popular getaway for those who want to fall in love on an isolated island full of honey-hued beaches or for those who want a hint of mythology to their adventure.
4. The Darjeeling Limited (2007)
From Italy, you go to India and pack your luxury bags in a spiritual – or maybe hell – train  ride. The Darjeeling Limited train was made possible by Northwestern Railway. Everything you see inside the train is customized for the film and it was inspired by the Darjeeling Himalayan Railway, a 2-feet narrow gauge railway that runs between New Jalpaiguri and Darjeeling in West Bengal, India.
The Darjeeling Limited ran through the palace-lined desert region of Rajasthan, from Jodhpur  to Jaisalmer.
The convent where the three brothers met their mother is a Mewar fortress in Udaipur known as the Kumbhalgarh.
5. Moonrise Kingdom (2012)
If you want to feel like a kid who's going through some issues with your friends, family, and you just want to run away with a love you can't let go of, head to Rhode Island for your real 'New Penzance'. The lighthouse home of the Bishops called 'Summer's End' is a private home called Conanicut Light, located in Bay View Drive North in Jamestown, Conanicut Island.
The place where Sam meets Suzy for the beginning of their escape and adventure was shot in Watson Farm, a cultural history museum owned by Historic New England.
After a tough trek through the green trails (plus a mini-war with your co-scouts), you'll finally have your resting site in the 'Moonrise
And for the climax, the St. Jack's Church where the townspeople stayed during the severe thunderstorm and where Sam and Suzy takes the escape further (to the rooftop) is the Trinity Church in 141 Spring Street.
6. Grand Budapest Hotel (2014)
Kingdom' cove which is just the bay beneath Fort Wetherill in Fort Wetherill State Park.
Welcome to Zubrowska, a country located in Eastern Europe where you can visit the Grand Budapest Hotel. Zubrowska however, is a fictional country created with the help of Germany's well-preserved towns . The Grand Budapest Hotel isn't even a hotel shot in Budapest but a department store in Germany, in the town of Gorlitz. The department store, Gorlitzer Warenhaushas been standing since 1913 at the eastern end of Demianplatz alongside Frauenkirche.
The hotel's dining room was shot in a performance space inside Stadthalle, an old city hall on Reichenberger Strasse near the city park.
Schloss Lutz, the home of Madame Desgoffe-und-Taxis, in reality is the Castle Hainewalde in Saxony.
The prison called Checkpoint 19 Internment Camp where M Gustave was imprisoned is the ex-fortification-turned-castle-turned-prison Schloss Osterstein in Zwickau, Germany.
Mendl's cakes may have turned your taste buds and eyes on with their visual take on desserts and also for the pastry shop's interiors. The interiors were shot in Dresden's Molkerei Pfund which is a beautiful dairy store.
Remember that breathtaking Kunstmuseum chase where the silent killer Jopling follows the lawyer Kovac? The museum is an actual Rococo palace that also serves as a museum complex known as the Zwinger, also located in Dresden.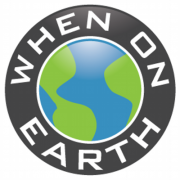 WOE Media
When On Earth Magazine is for people who love travel. We provide informative travel guides, tips, ideas and advice regarding places to see, things to do, what to taste, and much more for world travelers seeking their next dream vacation destination.