Looking for a New Sport? Learn to Fly in Montreal's Trapezium
Have you ever wanted to learn how to fly like the Cirque du Soleil performers? Trapezium, a recreational flying trapeze center in Montreal, can get you there. Whether you're a beginner looking to learn a new skill or an experienced trapeze artist seeking to hone your abilities, Trapezium is the place for you. They have professional instructors that give group lessons and provide individual instruction, and you always go at your own pace. It is open to the public, meaning that anyone can take classes there and learn the art of flying trapeze!
The thought of flying through the air and being caught by another person might sound really exciting to some people, while others may find it terrifying. There are people who take classes at Trapezium for both of these reasons. Some people are looking for a new exhilarating challenge, while others do it with the goal of conquering a fear.  The professional staff takes great care to ensure that all participants are safe. They teach everyone all of the safety procedures, and safety gear is always utilized, including a net and a harness.
Flying trapeze is an art that dates back to 1859. An acrobat named Jules Léotard (now we know where that word came from) invented it in his father's gymnasium in Toulouse, France, as he practiced swinging on cords above the pool. The sport involves a trapeze artist, known as a flyer, swinging through the air on a bar suspended by ropes, called a fly bar. In a move called a catch, the flyer jumps off the fly bar and is caught by another trapeze artist called a catcher. In a return, the flyer is released by the catcher and soars back to the fly bar. The flyer may perform any mid-air tricks and moves during the performance as well.
With Trapezium, you start off by learning the knee hang, which is a basic position. From there, the professional instructors prepare you for a catch and help you with new positions and skills. For more information on how to learn tricks like these and become a flying trapeze artist yourself with Trapezium, visit https://www.trapezium.qc.ca/en/.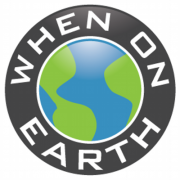 WOE Media
When On Earth Magazine is for people who love travel. We provide informative travel guides, tips, ideas and advice regarding places to see, things to do, what to taste, and much more for world travelers seeking their next dream vacation destination.