This App Can Tell You Where To Get Donuts Anywhere On The Planet
No one is safe from that sudden food craving and and all you got to do is look for the nearest place that sells one of your favorites. And if you thought of doughnut cravings as an example, oh snap – you totally hit it. How could you miss that hot chewy dough with glaze sliding on its sides and topped with sprinkles of awesomeness, right? You should be ashamed when you miss a craving but worry not because an app is ready to show you the way to paradise wherever you are.
Doughbot is your go-to app whenever you want that doughnut fix. You can easily find out where's the nearest doughnut shop with just a swipe and not only that, it also gives you detailed contact information, GPS-based directions, photos and reviews. It has combined the features of Yelp, Instagram and Yahoo! into one doughnut-loving app for all doughnut junkies.
The app is available for Apple users around USA, Canada and United Kingdom. So if your next trip is in one of these places, you already know what to do. Try 'em doughnuts with Doughbot!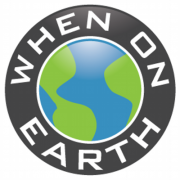 WOE Media
When On Earth Magazine is for people who love travel. We provide informative travel guides, tips, ideas and advice regarding places to see, things to do, what to taste, and much more for world travelers seeking their next dream vacation destination.