An Igloo Made Out Of 322 Refrigerators In The Middle of Hamburg
One day, an igloo appeared in the middle of Gänsemarkt in Hamburg, Germany. The igloo was made out of refrigerators, contained bizarre electrical installations within its interiors, and had a huge electric meter displayed right outside.
Despite its strange appearance, the igloo was created by Berlin-based artist Ralf Schmerberg to address the country's uncontrolled waste of energy. Aptly entitled "Wastefulness is the biggest source of Energy" the bizarre igloo was made of 322 old running refrigerators connected to an enormous meter to inspire passers-by to think about how much energy they are wasting every day. Recent studies say Germany could save up to 40% of its energy if people begin using electricity more efficiently. The art project was sponsored by a German energy provider and was displayed in the Gänsemarkt in 2012.
Aside from the electric meter, there is also a sign outside accounting for all materials used in the project, including 15.684 Vector Lines, 13 bars of concept chocolate, 10.5 tons of weight, 322 refrigerators, 30.780 watts of energy, 1.718 meters of wire, 35 pairs of gloves, 487 sandwiches made by Mommy, 49.000 calories, 120 leisure-time beers. Most of the crazy stuff are inside the igloo.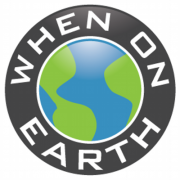 WOE Media
When On Earth Magazine is for people who love travel. We provide informative travel guides, tips, ideas and advice regarding places to see, things to do, what to taste, and much more for world travelers seeking their next dream vacation destination.