Go Full Speed in the Desert in South Africa's Kalahari Desert SpeedWeek
Calling all adrenaline junkies! Whether it's skydiving, bungee jumping or rock climbing, we know you'd do anything it takes to give you that rush. If any of this sounds appealing to you, then you may want to check out Kalahari Desert SpeedWeek. Fancy a drive, anyone?
Stretching across roughly 350,000 square miles, the Kalahari Desert isn't actually a real desert, but a semi-desert covering a large portion of southern Africa. It receives enough rain to support much more plant and animal life than a regular desert. The Okavango River, which runs through the northern part of the desert, and the pools of water that form during the rainy season provide grazing areas for animals such as wildebeest, antelopes, lions, cheetahs, hyenas, and eagles.
It seems like the Kalahari Desert Speedweek Club picked a pretty neat spot to host their annual event. Because the southwest region is so dry, it is quite barren, rendering it nothing but a vast, flat tract of open land. And who better to claim the use of it than an automotive racing event? It's easy to imagine the organizers of SpeedWeek taking one look at this place and thinking, "Yep, we could race cars here."
The first Kalahari Desert SpeedWeek was held in September 2012, located on Hakskeen Pan, an area of the desert with the extremely firm ground in the north of South Africa. As the name suggests, SpeedWeek was formed with the specific goal of speed in mind. The racing tracks are completely straight that allows racers to drive at maximum speed.
There's also a gymkhana track, which is a racing track with obstacles, such as cones and tires, in the middle. The driver must weave through the obstacles and showcase different skills, such as spins and reversals, in the shortest amount of time possible.
During the nighttime, attendees will be entertained by music, movies, a campfire, and an astronomy lecture under the desert sky. With all the tire-screeching and adrenaline-pumping, Kalahari Desert SpeedWeek is sure to be a fun-filled, adventure-crazed event. Those interested can visit the official website for more information: https://speedweeksa.com.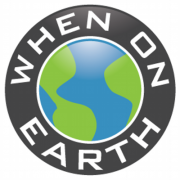 WOE Media
When On Earth Magazine is for people who love travel. We provide informative travel guides, tips, ideas and advice regarding places to see, things to do, what to taste, and much more for world travelers seeking their next dream vacation destination.