10 Cool Public Toilets Around the World Worth Seeing
What's that place you'll surely look for anywhere you go in the world? If nature calls, that's definitely the toilet we're talking about here. Anyone would agree that you can't complete a day without getting to the toilet to relieve yourself. But when it comes to public toilets, it's always a matter of "can I contain this till I get home or not?" If the answer is "no!", horror ensues (especially when you need to sit down). However, figuring out what to do is not always so straightforward in the world's most quirky public toilets, which can be a bit tricky to understand.
1. Egg Pods in London, United Kingdom
These futuristic pods look like they're storing alien experiments but these are just mere toilets inside the French gastro-brasserie named Sketch. This artsy place located in Conduit Street, London features a gallery housing more than 200 original drawings.
2. The 40,000-square-meter Restroom in Chongqing, China
This accidental theme park known as Yangren Jie or Foreigner Street is a 3.5-square-kilometer park that features replicas of the world's famous landmarks like New York, Venice, Brazil's Christ the Redeemer, and even China's own Great Wall. The large restroom has over a thousand toilets carved into different creatures and sometimes has TV and music installed within the area.
3. Graben Toilets in Vienna, Austria
Brass fixtures, marble walls, remarkable tile work, and wood paneling are the things you'll see once you enter the door that leads to these attractive toilets in Vienna. It costs a penny to enter the fancy toilets but it's a guarantee that peeing inside an artwork is all going to be worth it.
4. Mount McKinley Toilet in Alaska, United States
Hiking Mount McKinley is no joke. It's a 3-week expedition that won't let your bladder escape from the calls of nature. Open-pit toilets are available but they're unsanitary. To prevent people from using these pits, Clean Mountain Canisters (CMCs) are installed around the area. These durable yet lightweight portable toilets can be used up to 10-14 times including the addition of some toilet paper. Sounds like a perfect spot to have a panoramic selfie while sitting in this cool toilet.
5. Hundertwasser Toilets in Kawakawa, New Zealand
In 1998, the community board of Kawakawa town needed to renovate their 40-year-old toilet facilities in the central township. The artist named Frederick Hundertwasser, who was enamored by New Zealand, offered his design palate to the board and it was later accepted. The toilet slash artwork was constructed with used ceramic tiles, bottles, bricks, and more. The final look is a glimmering masterpiece of mosaic tiles, sculptures, grass roof, and copper handwork.
6. Chung Yo Department Store Bathrooms in Taichung, Taiwan
In Chung Yo Department Store, there are 15 restrooms, each featuring themes such as Coca-Cola, Wizard of Oz, Secret Garden, and Finding Nemo. There's also a restroom where you can grab a drink from refrigerators stocked up with Heineken. You won't have a problem walking to the toilet anymore when you need to pee after drinking several cans of beer.
7. Itabu Toilet in Ichibara, Japan
The Itabu Toilet designed by architect Sou Fujimoto can be considered as one of the largest public toilet in the world. Well, it's just a single-seater toilet but the place where it stands is a 200-square-meter garden that lets you have a beautiful scenery of plum, peach, and sakura trees swaying while you're inside a 2-meter-high glass toilet cubicle. Can you use it? Yes for sure, if you're brave enough to sit there while the world is watching you.
8. Kumutoto Toilets in Wellington, New Zealand
These toilets look like sea creatures that raised their heads from the water – that's actually the point of this design. Designed by architects from Studio Pacific, each of these two structures only contained a single toilet cubicle. If you think it's such a waste of space, going inside the headless creature will prove that it isn't.  It turns out that the odd shape was well thought of to help rid of that toilet smell out and let the fresh air come in.
9. Trail Restroom in Austin, Texas, USA
Forty-nine 3/4-inch-thick steel plates in different heights stand horizontally while gating the actual restroom, yet not sacrificing good ventilation and the beauty of natural light that can go through its ceiling's gaps. This unique public toilet designed by Miró Rivera Architects is located along the north shore of Lady Bird Lake. You can probably pass by this place if you take the Ann and Roy Butler Hike-and-Bike Trail.
10. Hiroshima Park Restrooms in Hiroshima, Japan
Japanese architects from Future Studio designed 17 Hiroshima Park Restrooms that look like origami cranes. The concrete restrooms with small circular windows are designed based on three different shapes but each of the rooms has one unique pop of color.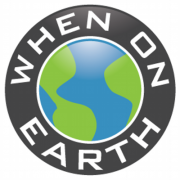 WOE Media
When On Earth Magazine is for people who love travel. We provide informative travel guides, tips, ideas and advice regarding places to see, things to do, what to taste, and much more for world travelers seeking their next dream vacation destination.