The Corn Palace in Mitchell, South Dakota, USA
The three little pigs have built houses made of straw, sticks, and bricks. Frozen's Elsa created her Ice Palace in minutes. Hansel and Gretel's cannibalistic witch lives in a house made of gingerbread and cakes. These places are unfortunately fictional (no real pig-built brick houses, sorry), but there's one place that you can visit in real-life – The Corn Palace. The place sounds unreal, but seeing is believing so head now to Mitchell, South Dakota to see this magnificent structure.
Who thought of making a corn palace in the first place? The answer is uncertain but the locals of Mitchell, South Dakota created this unique palace to prove how their city and state had a healthy agricultural climate. The world's first and only corn palace was built before the 20th century, in 1892, the time when Mitchell was still a small and young city of 3,000 inhabitants.
Another corn palace was built in 1905, followed by another one in 1919 which was permanent and more useful than the first two. The building was completed in 1921 right at the time for the Corn Palace Festivities. Today, the Corn Palace doesn't only serve as an amazing sight for tourists, but it is now a multipurpose palace used in exhibits, dances, banquets, stage shows, basketball tournaments, and more.
Naturally-colored corn, other grains, and grass are used to make and decorate the palace. 13 different colors or shades of corn are used: red, brown, black, blue, white, orange, calico, yellow, and green. How the cobs of corn get these colors can make you wonder but for sure they're all natural. Each type are planted in different fields to keep the colors natural and avoid cross-breeding.
The palace is usually decorated starting between April and May. The corn murals are stripped in August and the new ones are completed by October, so expect to see new murals every year that'll entice you to visit again and again. Entrance to the Corn Palace is totally free.
To complete your "corn-y" visit, you can buy caramel corn cobs, popcorn balls, and t-shirts in their
Corn-cessions Gift Shop. It's going to be a corn-loaded trip!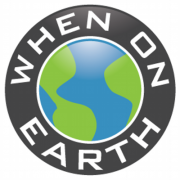 WOE Media
When On Earth Magazine is for people who love travel. We provide informative travel guides, tips, ideas and advice regarding places to see, things to do, what to taste, and much more for world travelers seeking their next dream vacation destination.