The Idyllic Blue-Rinsed Town of Chefchaoen, Morocco
Northwest of Morocco is a charming little town popular among tourists for its distinctive powdery blue painted streets. Chefchaouan (locally known as simply Chaouan) is located right in the heart of the Rif Mountains, beneath the shadows of two peaks called Ech-Chaoua (the horns). Its name literally means"look at the horns."
In the 1930's Chefchaouan was populated by Jewish refugees. As part of their tradition, the Jews painted their houses blue as a reminder of the blue sky and God above in heaven. Though the Jews no longer dominate the town's population (currently 40,000 people), the locals still follow the tradition and renew the paint job on their houses and streets.
Besides its idyllic charm, Chefchaouen is also a popular shopping destination, offering native crafts such as wool garments and woven blankets that cannot be  found anywhere else in Morocco. Apart from the handicrafts, the town is also famous for its excellent goat cheese as well the easy availability of marijuana, which are widely cultivated in North Morocco.
Chefchaouen exudes a relaxed atmosphere with a charm of an old town. The mesmerizing blue alleys are embellished with ornate hanging lamps on each corner, doorways of houses made of intricately carved wood, tiled arches, and gracefully twining vines. The main square is riddled with cafés brimming with locals and tourists who mingle quite comfortably. What's more, the streets of Chefchaouen are better cared for, cleaner, safer, and more peaceful than any other place in the country.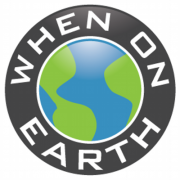 WOE Media
When On Earth Magazine is for people who love travel. We provide informative travel guides, tips, ideas and advice regarding places to see, things to do, what to taste, and much more for world travelers seeking their next dream vacation destination.