19 Awe-Inspiring Aerial Images of the World's Mega Mines
Mining has always been a polarizing topic. On one hand, it provides us with the essential materials we need to power our civilization forward; on the other hand, by-products from mining can lead to detrimental environmental effects.
Regardless of which side of the emotional spectrum your feelings lie, you can't help but feel awe when looking at the immense and profound changes that we as a species have made to our earth. Read on to go on an aerial journey through the world's most significant mining operations.
1. Potash Extraction Facility, Utah, USA
The Moab Mine is located about 20 miles west of Moab, Utah and is distinctive because of the method used to extract the potash. The mine began as a conventional underground mining operation in 1965, but was converted in 1971 to a system combining solution mining to extract the potash and solar evaporation to re-crystallize the product.
2. Diavik Diamond Mine, Northwest Territories, Canada
Producing 8 million carats annually the Diavik Diamond Mine began production in 2003.  The mine's most remarkable feature is its location, on an island in the middle of Lac de Gras. Diavik's remote location leads to an incredible transformation from blue and green tranquility to a barren ice desert in the winter.
Diavik is accessible by a seasonal winter road for only two months of the year – the winter road is built primarily on frozen lakes and stretches 375 km north from Yellowknife. Outside of that two month window Diavik can only be reached by air.
3. Bingham Canyon Mine (aka Kennecott Copper Mine), Utah, USA
The Bingham Canyon Mind has been in production since 1906, and has resulted in the creation of a pit over 0.6 miles (0.97 km) deep, 2.5 miles (4 km) wide, and covering 1,900 acres (770 ha). This was the first and largest copper open pit mine in the world. It was so significant to the development of the United States, that it was designated a National Historic Landmark in 1966
4. Mir Mine, Mirny, Russia
The Mirny mine, is a former open pit diamond mine, now inactive, located in Mirny, Eastern Siberia, Russia. The mine is 525 meters (1,722 ft) deep (4th in the world) and has a diameter of 1,200 m (3,900 ft), and is the second largest excavated hole in the world, after Bingham Canyon Mine. The airspace above the mine is closed for helicopters because of alleged incidents in which they fell in due to air temperature differences and unexpected currents.
5. Soquimich Lithium Mine, Chile
An aerial view of the brine pools and processing areas of the Soquimich lithium mine on the Atacama salt flat, the world's second largest salt flat, in the Atacama desert of northern Chile.
6. Rio Tinto Alumina Refinery and Bauxite Mine, Gove, Australia
The Gove Operations bauxite mine and alumina refinery is located 650 km east of Darwin. The operation is situated on extensive deposits of high grade bauxite, a burnished red ore with high aluminium oxide content. Gove produces more than 8.2 million tonnes per annum of bauxite. The picture below shows a tailings dam.
7. Grasberg Copper-Gold Mine, West Papua, Indonesia
The Grasberg mine was discovered in 1988. Today, after significant production, the Grasberg mining district contains the world's largest recoverable copper reserve and the largest gold reserve. The workings include a very large open pit mine, an underground mine and four concentrators. The open pit mine – which forms a mile-wide crater at the surface – is a high-volume, low-cost operation, producing more than 67 million tonnes of ore.
8. Garzweiler Surface Mine, North-Rhine Westphalia, Germany
One of the biggest mining operation on Earth can be found in Germany. At the Garzweiler strip mine they remove the top ground layer to extract lignite. The total mining surface is a staggering 18,5 ml² (48 km²) and several villages had to be moved for the mining operation. It is expected to extract 1.3 billion tons of lignite from the mine. After the mine's depletion, it will be filled with water from nearby rivers, creating Germany's second largest lake.
To move this much earth, the Germans created the Bagger 288 – a mega machine that can excavate 240,000 tons of ground a day. The excavator is up to 220 m (721 ft) long and approximately 96 m (315 ft) high.
9. Oil Sands, Alberta, Canada
Oil sands are a type of unconventional petroleum deposit where difficult-to-extract bitumen is found among sand or clay. The environmental impact caused by oil sand extraction is frequently criticized by environmental groups for the high amount of carbon dioxide emission, high water consumption requirements, and toxic run-offs.
However, the sheer size of these deposits – Canadian oil sands make up 75% of total North American petroleum reserves – makes the economic benefits of these deposits difficult to ignore.
10. Phelps Dodge, Arizona, USA
Founded in 1834 and originally a cotton exporter to England, Phelps Dodge in Arizona turned into the mining business as the western United States expanded and copper was discovered in the American soil. Now, it operates under the name Freeport McMoRan Copper & Gold Inc.
But before the name change, Phelps Dodge was identified by the University of Massachusetts Amherst as the 23rd producer of air pollution in the United States, producing pollutants such as sulfuric acid, chromium compounds, lead compounds and chlorine.
11. Toquepala Copper Mine, Peru
Just right at the mineral-rich Andes Mountains in southern Peru, Toquepala is one of the country's main producers of copper. This 1.5-mile and 2,300-feet deep mine also produces gold, silver, and molybdenum. It sits on the rugged mountain and gets that picture perfect scenery under the mid-afternoon sunlight.
12. Buenavista del Cobre (Cananea Mine), Mexico
Just 25 miles away from the United States border in Sonora, Mexico, lies Buenavista del Cobre which is one of the largest copper producers in the world. Besides copper, this mine also produces gold.
13. Phosphate Mines, Jordan
Founded in 1949, Phosphate Mines in Jordan is currently the only company mining phosphates in Jordan. It also has a chemical and fertilizer manufacturing complex producing phosphoric acid, diammonium phosphate, sulphuric acid and aluminum fluoride.
14. New Cornelia Mine (Ajo Mine), Arizona, USA
The New Cornelia Mine is an inactive open-pit mine located in Pima County, located nearby Ajo. It was first mined in 1750 and was the only productive mine in the Ajo mining district. The New Cornelia Mine went under the ownership of Phelps Dodge in 1931 and later became also under Freeport McMoRan Copper & Gold Corporation, to become the largest publicly traded copper producer in the world in 2007. However, the mine was shut down in 1983 due to low copper prices.
15. Hambach Surface Mine, North Rhine Westphalia, Germany
Tagebau Hambach in Niederzier and Elsdorf, North Rhine Westphalia is a large open-pit mainly used to mine lignite, also known as brown coal, used for electricity source and fuel. It is the deepest open pit mine where its bottom pit is measured 293 metres (961 ft) below sea level.
16. Carlin Trend, Nevada, USA
The Carlin Trend is known as a gold mining district in USA and also the greatest source of mercury emissions released when ore is heated during gold extraction. This process plus the other chemicals included formed this colorful yet deadly contaminated groundwater.
17. Chuquicamata Copper Mine, Chile
Since 550 CE, this site has been mined for its abundant copper until it went full industrial at the beginning of 1910. It left a hole at Atacama and so far has produced more than 29,000,000 metric tons of pure copper. The over-a-hundred open-pit operations of Chuquicamata might still continue until 2060.
18.  Maras Mines, Peru
Already established during the time of the Incas, this terraced salt pools wonder is actually where you can taste one of the best salt in the world.
19. Inden Opencast Mine, Germany
Germany's electricity mainly comes from its lignite power plants, that's why the country can't just kick out the old habit of lignite mining. The Inden Opencast Mine is located right between Aldenhoven and the A44 motorway in the north and the A4 in the south. Just like the former Zukunft-West opencast mine, Inden opencast mine is planned to turn into a recreational lake after its exhaustion, expected to happen by 2030.
[su_note note_color="#fafddf" text_color="#000000″ radius="0″]
Related Topics You May Be Interested to Read: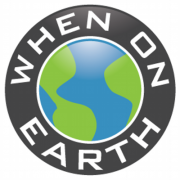 WOE Media
When On Earth Magazine is for people who love travel. We provide informative travel guides, tips, ideas and advice regarding places to see, things to do, what to taste, and much more for world travelers seeking their next dream vacation destination.