25 Creative Buildings Around the World
Architects in cities around the world are working hard to create unique designs to bring in tourism revenues to their city and attract attention to their work. Many people are taking notice of this trend, and looking to support it by taking trips to see such buildings in person. Here is a list of 25 creative buildings all over the world that quickly caught our attention with their interesting designs and just might be worth visiting.
25. The Barcode Building
This interesting concept for an indoor shopping center in St. Petersburg, Russia gives a hint to its purpose and surroundings. The four-story building is located in a busy shopping district and creatively reflects one element common to many things consumers are buying within its walls: barcodes.
24. The Blue Building
This building in Rotterdam, a city in the Netherlands, used to be quite unimpressive. The city planned to demolish it and turn it into something new. They decided to give a local art firm a chance to redeem the building until then. Until new plans are made for it, it will remain a very strikingly blue icon of the city.
23. The Longaberger Basket Building
This unique basket-shaped building located in Newark, Ohio (USA) is home to the headquarters of the Longaberger Company, which specializes in the production of actual baskets. It has become a local landmark in Newark and around the world, as it is considered the world's largest basket!
22. The Kansas City Library
This building, made to appear like a single shelf of books, leaves passersby no questions about what may be found inside. The library, located in Kansas City, Missouri (USA), features along its outside walls, several books considered to be the classics, the works of great authors of history such as Plato, Mark Twain, J.R.R. Tolkien, Willa Cather, and Ray Bradbury.
21. Capital Gate
This curving building is located in Abu Dhabi, UAE, and is a very unique skyscraper hotel. Because of its shape, each room has different dimensions. The building has been deemed by the Guinness Book of World Records to be the "World's Furthest-Leaning Manmade Tower," leaning  18 degrees (the Leaning Tower of Pisa only leans about 4.5 degrees).
20. The Svalbard Global Seed Vault
This modern looking building is more than just beautiful — it serves an important purpose. The Seed Vault, located in Longyearbayen, Norway, houses and protects seeds of all kinds of plants from around the world so that they could be preserved and repopulated in case of disaster.
19. The Ryugyong Hotel
This unfinished hotel in North Korea looks like it might be a backdrop for a cheesy futuristic movie, but it was actually meant as a symbol of the government's power, a reminder to its people and to visitors. The project has been underway for more than a quarter-century and is still incomplete.
18. The Kugelmugel House
Also called The Republic of Kugelmugel, this spherical house built by Edwin Lipburger was declared a micro-nation in 1984. Initially, the government of Vienna, Austria, fought the declaration, but a pardon from their president left Mr. Lipburger to establish his own tiny country within its walls.
17. The Seven-story Tree House
Most people wouldn't dream that a treehouse like this one in Traver, California would exist in real life. The seven-story house looks like something you might see in a children's book. The building is on the property of Bravo Farms, and also includes a bar and a café.
16. The Crooked House
This "house" in Sopot, Poland is not actually a home, it's a shopping center. Inspired by the work of an illustrator for children's books, the building features uniquely distorted inner and outer walls, and attracts tourists from all over the world.
15. The Strawberry House
Tokyo, Japan is home to this adorably Sanrio store in the shape of a strawberry. The interior of the building is just as cute, and full of merchandise, especially Hello Kitty collectibles. This building is just one example of the growing worldwide trend of fruit shaped buildings.
14. Solar Ark Building
Yet another Japanese building of innovation, the Solar Ark building is a museum and lab covered in solar panels, not to mention the impressive shape. The building is owned by the Panasonic Corporation and is located in the very center of the country.
13. The Robot Building
This humanoid robot-shaped building is located in Bangkok, Thailand and used as the headquarters for the United Overseas Bank. Each part of his "body" has a unique purpose, so that the building isn't just eye-catching but also fully functional.
12. Crazy House
This actual guesthome in Dalat, Vietnam lives up to its name. The house is reminiscent of surrealist artists in its dreamlike appearance. The shape and style of the building is intended to look like the natural landscape of the area.
11. The Ericsson Kista Building
The headquarters of Ericsson Telecommunications in Stockholm, Sweden is the colorful Kista building. An expertly engineered "crack" in the building attempts to create the illusion of the building being split in half and is lined with beautiful windows of glass in varying shades of orange and yellow.
10. The World of Coca-Cola
Featuring a giant bottle of Coca-Cola, the World of Coca-Cola Museum in Atlanta, Georgia (USA) is a popular tourist attraction of the area. The bottle is a fully functional portion of the building, and included inside is a taste-testing room where visitors can sample Coke products from around the world.
9. Teapot Building
This striking red teapot-shaped building is in Zunyi, China, which is in one of the poorest provinces in China. The main product of the area is tea, so the building style is considered a tribute to that industry. It is currently being used as a hotel.
8. City Museum
The City Museum in St. Louis, Missouri is interestingly built, inside and out. Combining many architectural concepts, it is a symposium of all things interesting and even features a seven story slide to the delight of adults and children alike!
7. Lou Ruvo Center For Brain Health
This warped looking steel building is a branch of the Cleveland Clinic dedicated to providing medical care and carrying out research. The structure certainly stands out from its surroundings in the busy city of Las Vegas, Nevada.
6. Basque Health Department Headquarters
This bumpy building is located in Bilbao, Spain, and is the Headquarters for the Basque Health Department at the crossroads of two busy streets. It includes seven floors that have been made into office space, meeting rooms, and three levels of parking for employees.
5. Redwoods Tree House
An onion like-structure, the Redwoods Treehouse by Pacific Environments Architects is a restaurant among the trees in Auckland, New Zealand. The entrance walkway is among the trees as well, and is made from some of the trees from the very forest that houses it.
4. Turning Torso Building
Located in Malmö, Sweden, this twisting skyscraper is actually a residential building, containing offices and luxurious city apartments. It is said to be the tallest of all the buildings in Sweden and the frame twists to rotate the building 90 degrees!
3. 30 St. Mary Axe
You may have seen this trendy office building before in movies or TV shows. This building in London, England is forty-one glistening stories tall. Many residents and visitors jokingly compare it to a gherkin pickle or a decorated egg!
2. The Piano House
This building in Huainan, Anhui in China, is an attempt by the government to draw tourists and developers to the rural area. It features a violin made entirely of windows, with a staircase inside to the main part of the house.
1. Atomium
The Atomium is a sort of museum of technology and design in Brussels, Belgium. It was built for the World Exposition all the way back in 1958, and its eight floors have now been made into public museum space and restaurant, one for each orb!
25 isn't enough and we're looking for more buildings that are worth the visit. You might know one that's not yet on the list, so tell us now through comments.
[su_note note_color="#fafddf" text_color="#000000″ radius="0″]
Related Topics You May Be Interested to Read: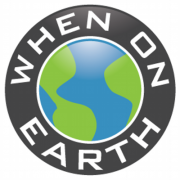 WOE Media
When On Earth Magazine is for people who love travel. We provide informative travel guides, tips, ideas and advice regarding places to see, things to do, what to taste, and much more for world travelers seeking their next dream vacation destination.