Stunning Bird's Eye View of the World's Colorful Beaches
Art can be captured anywhere. It just takes the right place, the right time, the right light, the right angle – and the right eye to see the beauty easily overlooked by the average person. To see evidence of this, take the photos of Bernhard Lang, Antoine Rose, Gray Malin, and Alex MacLean, who raised the beauty of beaches into a higher artistic level. We all know beaches are already beautiful, but when shot from above and mixed with the elements that make an emerald beach alive: beach bums, colorful umbrellas, towels, and chairs; these aerial images will convince you that looking at things in a different perspective can be unexpectedly awesome.
Bernhard Lang
Let's start the photo roll of aerial beach shots with the works of Bernhard Lang, a Munich-based photographer. He's already a pro when it comes to aerial photography, capturing beauty in unlikely places like car parks, container ports, and even open pit coal mines. Several years ago, he had a vacation in the seaside resort probably located in Villamarina di Cesenatico FC, Italy. The coastline with perfectly arranged colored umbrellas wasn't able to escape Lang's eye so he came back and took the chance to capture the coastline between Ravenna and Rimini by air.
All photos are taken above the beach in Adria Beach Club (although the photo description says in Adria, a town located way north from Ravenna and not between Ravenna and Rimini).
Antoine Rose
Belgian photographer Antoine Rose is a self-taught photographer who's spent his years traveling around the world as the official photographer of the Kitesurfing World Cup and for major advertising campaigns under well-known international brands. His series "Up in the Air" from 2002 shot above the shores of the Hamptons, Miami Beach, and Long Island and shows the photographer's minimalistic approach. His shots excluding the sky created a whole new look comparable to an abstract painting, as the tanned bodies of the crowd, beach sheets, and all beach essentials color the all-natural canvas duo: the shore and the ocean.
All three photos were taken above Miami Beach.
Another Antoine Rose aerial photo above a beach in The Hamptons.
This photograph was taken above a beach in Long Island.
Gray Malin
Gray Malin's heart for aerial photography started with his simple habit of observing beachgoers from a Las Vegas balcony. Now, the Los Angeles-based photographer is known for his aerial photos which includes the series 'À la Plage' featuring the different beaches around the world, from the United States to Brazil to France to Australia. Another series, 'Art Deco Miami' focuses on the colorful umbrellas along the sandy strip of Miami's South Beach giving off a 20s and 30s art deco style. Besides beaches, Malin also takes aerial shots from snow-covered mountains to palace gardens.
St. Tropez
Baker Beach San Francisco
Malibu
Brazil Blue Water Beach
Lisbon Cascais Beach
Alex MacLean
Trained as an architect, Alex MacLean's interest in aerial photography grew on him while he studied community planning. In 1975, he received his commercial pilot license which started his career creating photographs that "portrayed the history and the evolution of the land from vast agricultural patterns to city grids". He has won numerous awards for his works and his photographs have already been exhibited widely in the United States, Canada, Europe, and Asia. His aerial beach photographs were mostly shot above Italy. Waste ponds, amusement parks, copper mines, highways, subdivisions, and other natural to man-made spectacles are included in MacLean's works.
Viareggio, Italy
Rosignano Marittimo, Italy
Massa, Italy
Rosignano Marittimo, Italy
Lido Spina, Italy
The first four names are some of the most popular names when it comes to aerial photography. Here's a bonus beach shot that can make you wonder, "Is this a photo or a painting?":
Sven Zacek
This photo was taken over the sandy beach of Pärnu, the summer capital of Estonia.
How can these people do amazing aerial shots? In aerial photography, the rules in taking shots are the same as you would do when on the ground. The one key that'll make it or break it is to place yourself in the right position to take the shot again and again. Aircraft is also considered. The photographers mentioned didn't just ride a helicopter and take their shots out the door. Antoine Rose took the aerial shots while hovering between 100 and 1,500 feet in the air, spending 10 hours on expensive helicopter flights just to get that perfect shot. Gray Malin even did his shots from doorless helicopters. Besides the flights that could go from $100 per hour to something around $300, connection with the pilot is also an important step to be remembered. Being honest about what you want to happen, simulating how you will be working with your camera is greatly advised before taking off.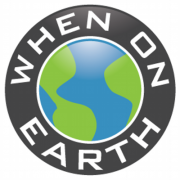 WOE Media
When On Earth Magazine is for people who love travel. We provide informative travel guides, tips, ideas and advice regarding places to see, things to do, what to taste, and much more for world travelers seeking their next dream vacation destination.