These 9 Places Are As Close As it Gets to Heaven on Earth
Some people want to travel east, others west, others simply to various parts of the world. Some people want to dive deep and discover what lies underneath the blue waters. Of course, some would like to go high in the sky and feel like they've become cloud conquerors. Is heaven real? We're not ready to make that call here, but if you consider cloudy towns to be heaven then read on to know where you should be heading.
1. Machu Picchu, Peru
Machu Picchu is one of the world's most important archaeological sites, lying on a high mountain ridge surrounded by the Urubamba River some 610 meters below. It is located in the Cusco Region, Urubamba Province, Machupicchu District in Peru. It's an Inca-style complex of palaces, plazas, temples, and homes, all made of dry-stone walls.
2. Nagarkot, Nepal
Nagarkot is a village located 32 kilometers east of Kathmandu, Nepal in Bhaktapur District. The village which stands approximately 2000 m above sea level creates an idyllic setting for sunrise views over the snow-capped peaks of the Himalayas, including Mount Everest.
3.  Cordes sur Ciel, Tarn Valley, France
Built in 1222 by Raimon VII, Cordes-sur-Ciel is a commune in the Tarn department of southern France. Fascinating architecture fills its narrow streets while being surrounded by the Midi Pyrenees countryside.
4. Erice, Italy
Located on top of Mount Erice, Erice is a historical town in the province of Trapani in Sicily, Italy. The town is 750 meters above sea level which makes it possible for visitors to see over the city of Trapani, the western coast towards Marsala, Punta del Saraceno, Capo San Vito, and the Aegadian Islands.
5. Sapa, Vietnam
Sapa is a town lying in the northwest region of Vietnam, almost near the border with China. It is located 1500 meters above sea level on the Hoang Lien Son mountain range known as the "Tonkinese Alps". Ethnic minorities can be found in Sapa including the H'mong, Dao, Tay, Giay, Muong, Thai, Hoa, and Xa Ph
6. Quito, Ecuador
The capital city of Ecuador, Quito's height screams that it is obviously the country's capital. It is 2,800 meters above sea level which makes it the highest official capital city in the world. It lies between two mountain ranges and has a fairly cool climate because of its elevation and proximity to the equator. Quito was declared a UNESCO World Heritage Site in 1978.
7. Calcata, Italy
Calcata is a small town 40 kilometers north of Rome overlooking the valley of Treja river. It is located in the province of Viterbo in the Latium region. The town of Calcata was feared to collapse in the 1930s making its residents move to another town. Numerous artists and hippies squatted  in Calcata before being repopulated to allow for the restoration of the town. Today the bohemian atmosphere is back and Calcata is known to be the "grooviest village in Italy", home of about 100 artists, aging hippies, and New Age types.
8. San Marino (capital), San Marino
San Marino is the capital city of the third smallest state in Europe, San Marino which lies 657 meters above sea level overlooking the surrounding countryside and Adriatic coast. The capital is surrounded by a wall and three distinct towers overlooking the rest of the country.
 9. Shigatse, Tibet
Shigatse is Tibet's second-largest city, but with a population of less than 100,000 it remains a wild and isolated town.  Shigatse's average elevation is about 3840 meters, which fosters brisk weather in the summer and downright cold in the winter. The city is over 600 years old and features a number of Buddhist monasteries and heritage sites.
10. Dubai, United Arab Emirates
Although Dubai isn't a place that stands on high mountains, it doesn't stop itself from reaching the clouds through its literally sky-high skyscrapers. Dubai is a desert city with an infrastructure that attracts tourists. It has been a favorite destination for shoppers, party-goers, and for those who're into popular sporting events. It's also home to the Burj Khalifa, which is the tallest artificial structure in the world with a height of 829.8 meters.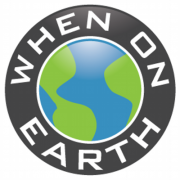 WOE Media
When On Earth Magazine is for people who love travel. We provide informative travel guides, tips, ideas and advice regarding places to see, things to do, what to taste, and much more for world travelers seeking their next dream vacation destination.