8 Offbeat Places to Visit in Israel
If you're already familiar with Israel's main attractions, why not travel like a hipster? Visit these 8 amazing places that you'll love for sure without the trouble of bumping into bunches of tourists.
1. Hula Valley
The Hula Valley is a popular spot for those who want to go hiking and biking in a peaceful area in Israel. It is located at the northern part of Israel where lands are more used for agriculture. If you're a nature lover, you should visit Hula Valley's Lake Park during the fall and early winter to enjoy the tranquil area while witnessing the migration of thousands of different birds like cranes, storks, and pelicans.
2. The Golan Heights
If you've decided to visit Hula Valley then you could add the Golan Heights to your trip. It's another natural site where the mountains are the main attraction. On these heights, you can see the Sea of Galilee, springs, rivers, and waterfalls that can be better enjoyed by doing water sports such as kayaking and rafting.
3. Antipatris Fortress, Yarkon National Park
If you want to go back in time, Antipatris is the place where you can see a glimpse of history. The fortress, just east of Tel Aviv, was an ancient city built by Herod the Great and named after his father – Antipater the Edomite. You can also check out the remains of Tel Afek, a 16th century crusader fortress, and also the scenic spots around the Yarkon National Park.
4. The Herzliya Marina
If you want to be near water, the Herzliya Marina can provide you a relaxing time with its marina view and beach. It won't bore you because cafes, restaurants, and shopping malls are all available around the area.
5. The Biblical Zoo, Jerusalem
Jerusalem is already a fixed entry in any Israel travel itinerary, but make sure you can have the time to see the Biblical Zoo which houses all the wildlife species mentioned in the Bible.
6. Yarkon Park, Tel Aviv
After the tough walk around Tel Aviv, you can enjoy resting at Yarkon Park which is just between Tel Aviv and Ramat Gan. This park is considered to be the green space between two cities and is where the locals go when they want to have a break from the bustles of city life.
7. The Negev Forests
Grab a bike and head to the northern part of Negev to see "Darom Adom"  which means the "Red South". Remember to better go here in spring, during February (peak) until March to witness the red anemones in full bloom, painting the whole fields in red. For best views, go to Be'eri and Shokeda forests.
8. The Colored Sand, Ramon Crater
The name itself already makes the place exciting to see. The Ramon Crater is located at the center of the Negev desert where you'll find the colored sand park a several hundred meters south along the road. Be sure to bring your own plastic or glass bottles if you want to collect natural colorful sand with colors like red, yellow, black, brown, and white.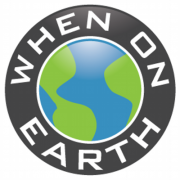 WOE Media
When On Earth Magazine is for people who love travel. We provide informative travel guides, tips, ideas and advice regarding places to see, things to do, what to taste, and much more for world travelers seeking their next dream vacation destination.