74 Images Showing How the World Lit Up in Blue, White, and Red for France
The terrorist attacks in Paris on the 13th of November 2015 didn't only shake the French capital but also the whole world as it left 128 people killed and 300 injured. It stirred emotions of surprise, pain, and hate like everything was a nightmare you'd want to forget once you wake up. No matter how painful everything was, Paris stood up and the people showed compassion starting with the use of the hashtag #PorteOuverte which means "open door" to offer shelter for the tourists and locals who were stranded because of the chaos. It just didn't stop there as the world expressed their solidarity to Paris and to everyone who were greatly affected by the tragedy by lighting up their famous buildings, towers, and monuments with the colors blue, white, and red – the colors that represent the French flag. Here's a collection showing how the world lit up with the Tricolore for France.
The Eiffel Tower, Paris, France
Bazar de l'Hôtel de Ville, Paris, France
Montparnasse Tower, Paris, France
Europe 1 Radio, Paris, France
Galeries Lafayette, Paris, France
Tunnel Wilbur-Wright, Le Mans, France
Disneyland Paris, France
Grande Roue de Paris, Paris, France
Palais de Justice, Lyon, France
Tour Incity, Lyon, France
Hotel de Ville, Place des Heros, Arras, France
Opera de Marseille, Marseille, France
Hôtel de Ville de Vincennes, Vincennes, France
Monument aux morts, Toulouse, France
Hotel Metropole Monte Carlo, Monaco
The London Eye, London, UK
Wembley Stadium, London, England, UK
The Corn Exchange, Doncaster, South Yorkshire, England, UK
Penshaw Monument, Tyne & Wear, UK
University of York, Heslington, York, UK
Durham Cathedral, Durham, England, UK
Durham Lumiere Festival 2015, Durham, England, UK
Usher Hall, Edinburgh, Scotland, UK
Dublin City University, Dublin, Ireland
Cathedral of Our Lady Assumed into Heaven and St Nicholas, Galway, Ireland
Cork City Hall, Cork, Ireland
Royal Palace of Amsterdam, Amsterdam, Netherlands
Breda, Netherlands
Martinitoren, Groningen, Netherlands
Dom Tower of Utrecht, Utrecht, Netherlands
Palace of Culture and Science, Warsaw, Poland
Norrköping Waterfall, Östergötland, Sweden
Brandenburg Gate, Berlin, Germany
Magdeburg Cathedral, Magdeburg, Germany
Christ's Resurrection Church, Kaunas, Lithuania
Teatro Massimo, Palermo, Italy
Ponte Vecchio, Florence, Italy
Larnaca, Cyprus
Bratislava Castle, Bratislava, Slovakia
Finlandia Hall, Helsinki, Finland
Ars Electronica, Linz, Austria
Oriental Pearl Tower, Shanghai, China
Tokyo Tower, Tokyo, Japan
Komazawa Olympic Park Stadium, Tokyo, Japan
Tokyo Metropolitan Government Building, Tokyo, Japan
KL Tower, Kuala Lumpur, Malaysia
De La Salle University, Manila, Philippines
Chhatrapati Shivaji Terminus, Mumbai, India
Sydney Opera House, Sydney, Australia
Wilson's Outlook, Brisbane, Australia
Montreal Museum of Fine Arts, Montreal, Quebec, Canada
Nathan Phillips Square, Toronto, Canada
Place Émilie-Gamelin, Montreal, Quebec, Canada
Place des Arts, Montreal, Quebec, Canada
Canada Place, Vancouver, British Columbia, Canada
High Level Bridge, Edmonton, Alberta, Canada
Mellon Independence Center, Philadelphia, Pennsylvania, USA
Washington Square Park, New York City, New York, USA
Helmsley Building, New York City, New York, USA
One World Trade Center, New York City, New York, USA
Los Angeles City Hall, Los Angeles, California, USA
San Francisco City Hall, San Francsico, California, USA
San Francisco International Airport, San Francisco, California, USA
Dallas, Texas, USA
Union Station, Denver, Colorado, USA
Union Station and Kansas City City Hall, Missouri, USA
Korean War Veterans Memorial Bridge, Nashville, Tennessee, USA
San Juan, Puerto Rico
Zacatecas, Mexico
Torre Colpatria, Bogota, Colombia
Christ the Redeemer, Rio de Janeiro, Brazil
Burj Khalifa, Dubai, United Arab Emirates
Rabin Square, Tel Aviv, Israel
In the end, Paris, together with the world, will continue to live with the Latin motto "Fluctuat Nec Mergitur" which translates to "Tossed But Not Sunk".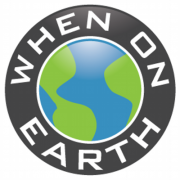 WOE Media
When On Earth Magazine is for people who love travel. We provide informative travel guides, tips, ideas and advice regarding places to see, things to do, what to taste, and much more for world travelers seeking their next dream vacation destination.