6 Places with Quirky Playground Slides for The Kid-at-Heart
We all have this time when we're just too tired to walk especially when the place you're traveling requires you to have sturdy shoes, stamina, and the will to travel hours by foot. So when a long stairway to somewhere pops up, you can be either surprised in a good way or in a bad way. Good because it can add to your needed daily exercise and bad because of the same reason with additional problems like being tired or just plain lazy. If you've been wishing an easier and more fun way of traveling by foot, you might chuckle when you see some of the world's main solution – slides.
And slides aren't just built for others to make walking enjoyable, these essential playground equipment are built longer and customized into a size where both adults and children can fit and play. In total, there are currently six of these and it's time to know where these fun spots are.
Suma Rikyu Park. Kobe, Japan
Suma Rikyu Park is a botanical garden located at Higashi Suma 1-1, Suma-ku, Kobe, Hyōgo, Japan. The park, inspired by the general model of the Palace of Versailles park in France, home of about 230 types of trees and varieties of flowers such as iris, rose, hydrangea, and camellia. There's also a Japanese garden and tea ceremony rooms around the area. There's many to see in this park and it's suitable for families who want to play and see the beauty of nature at the same time. But don't forget what we're looking for in this place – the jumbo slide!
Muroike Enchi Park, Osaka, Japan
Muroike Enchi Park is another large public park where you can enjoy the rich nature of Osaka. Here you'll find playgrounds, a pond, and a forest where you can trek along the trail for less than two hours to complete a full course. Lastly, there's the jumbo slide waiting for you.
Seward Street Slides, San Francisco, CA, USA
In a neighborhood close to the heart of Castro in San Francisco, there are two long concrete slides adults visit to unleash their inner child. It's a hit among adults that you can even find it in Yelp (with reviews, of course). Just be reminded that the playground is closed from sunset to sunrise and adults can only play if accompanied by children (a bit confusing right?) If you've decided to go here don't forget to bring a piece of cardboard to enjoy sliding down in high speed.
Utrecht Overvecht Station, Utrecht, Netherlands
The commuters of Overvecht don't have problems rushing down the stairs to catch the train because they can instead slide down to reach the station faster. The slide is called "Transfer Accelerator", designed by HIK Ontwerpers as part of the station's redevelopment project to improve usability, sustainability, and safety of the station. Moreover, putting a slide in the station makes commuting more fun and encourages people to take the train.
Seoul Forest Park, Seoul, South Korea
Seoul Forest was made to serve the locals' request of having a green space and also a place where they can spend time doing recreational activities. Now, the park is available for visitors who want to play, ride a bicycle or a skateboard, view art, and be in touch with nature. It consists of five parks: a Cultural Art Park, an Ecological Forest, a Nature Experience Study Field, Wetlands Ecological Field, and Han River Waterside Park.
Yongma Waterfall Park, Seoul, South Korea
Located in Jangnang, Seoul, Yongma Waterfall Park boasts its tallest artificial waterfall in Asia. The waterfalls is 51.4 meters high with two waterfalls on either side: the 21.4-meter Blue Dragon Waterfall and the 21.2-meter Blue Dragon Waterfall. Besides enjoying the waterfalls, there are also pavilions, courts, and open green areas where people can play and relax. Don't forget about the slides between the stairs.
You might know some other hidden places with fun playgrounds or slides for all ages and sizes. If you do, please don't hesitate to share!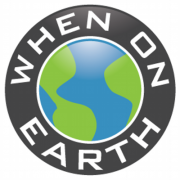 WOE Media
When On Earth Magazine is for people who love travel. We provide informative travel guides, tips, ideas and advice regarding places to see, things to do, what to taste, and much more for world travelers seeking their next dream vacation destination.