5 Sand Dunes to See in Southeast Asia
Imagine a vast area of sand dunes, slowly eroding together with the sweeping wind, and transforming itself into a light show showing off different shades and colors operated by no other than the sun's rays. You'll first think that this kind of scenery only exists around the popular desert spots like those you'll find in the Middle East, but you're totally wrong. Southeast Asia surprisingly keeps amazing sand dunes in unexpected places. So after getting soaked by this region's famous beaches and culture, why not get under the sun while digging your toes in unlimited sand? Here are some of Southeast Asia's special sand dunes.
White Sand Dunes, Mui Ne, Vietnam
Just 4 hours away from Ho Chi Minh City, Mui Ne spans 15 kilometers along Vietnam's southern coast. This area is popular for its two famous sand dunes: Red Sand Dunes and White Sand Dunes.
The less accessible White Sand Dunes can be reached by an hour of driving from central Mui ne. Around it you'll find three lakes: Bau Ong (Gentleman Lake), Bau Ba (Lady Lake), and Bau Xoai (Mango Lake). The best way to reach the dunes is by riding a jeep, better than using motorbikes that'll take time before you can reach the actual dunes. Go to the southern end of the dunes for shade under the pine trees.
Red Sand Dunes, Mui Ne, Vietnam
Red Sand Dunes can be reached from central Mui Ne just by a 20-minute drive. Its shorter and accessible distance compared to White Sand Dunes' makes it more crowded but its slopes are easier to walk on. You can have a view of the ocean just right beside the sand dunes. Here, the sand has more of an orangey color best seen on a sunset.
Paoay Sand Dunes, Ilocos Norte, Philippines
There's an amazing 88 kilometer sand dune adjacent to Suba Beach in the Philippines's northern region. Paoay sand dunes attracts tourists who want to have an instant adrenaline rush through the site's different sand activities such as sandboarding and a 4×4 ride which offers three levels from easy to bump hard.
Gumuk Pasir, Yogyakarta, Indonesia
Just 30 kilometers from downtown Yogyakarta, Gumuk Pasir is a unique desert in Parangkusumo, Bantul, Yogyakarta. The gray sand dunes form a wavy pattern on the sand surface du to the site's strong winds. What makes it more beautiful is the array of colors it reflects during sunrise and sunset. Gumuk Pasir is also the home of a natural laboratory for geological research.
Ban Nam Phu Sand Dune, Chumphon, Thailand
Thailand's Chumphon is a great beach destination. Besides the beach however, you'll find yourself surrounded by sand dunes in different sizes and shapes. You'll know you're in the right place especially when you come across a sign that read, "The most prominent sand dune in Thailand." The sand dune however isn't pure sand but mixed with vines, shrubs, and grass. Moreover, stepping stones are provided to make sure that no one can harm the dunes' fragile system. Set your eyes on the beautiful scenery with limestone mountains, sea pines, and the sea shore as the background.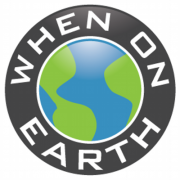 WOE Media
When On Earth Magazine is for people who love travel. We provide informative travel guides, tips, ideas and advice regarding places to see, things to do, what to taste, and much more for world travelers seeking their next dream vacation destination.