25 Captivating Images that Show How Big Our Cities Have Gotten
We live in an increasingly urban world and it's not hard to understand why; research shows that urban areas provide more opportunity for innovation, economic growth and personal expression. Cities also offer humans much more efficiency in utilization of resource because inhabitants usually have smaller energy footprints and consume less resources per capita. However, with so many of us inhabiting the planet, cities are facing challenges on unprecedented scales. We've compiled 25 captivating images to show the level of complexity and scale that most urban planners, government officials, and sociologists need to deal with when making policy decisions
1. Amsterdam, The Netherlands
Fun fact: There are 11,000,000 wooden poles that support Amsterdam's buildings. These poles sink through the mud and are fixed in an 11-meter sandy layer. It takes 10 poles to keep a single house out of the muck.
2. Shanghai, China
Fun fact: Shanghai was originally a small fishing village but has transformed into the largest city in China and the third largest metropolitan in the world.
3. San Fransisco, USA
Fun fact: San Francisco was part of Mexico until the Mexican-American War in 1848.
4. Hong Kong
Fun fact: Hong Kong has the most skyscrapers in the world.  New York is in second place and Dubai in third.
5. New York City, USA
Fun fact: There are more than 26,000 people living in each square mile of New York City.
6. Paris, France
Fun fact: Paris is divided into twenty areas called arrondissements. The center of the city is the first arrondissement and the rest follows in a clockwise spiral.
7. London, United Kingdom
Fun fact: London was the first city to have a population of more than one million in 1811. It remained the largest until it was overtaken by Tokyo in 1952.
8. Berlin, Germany
Fun fact: 44% of Berlin is made up of parks, recreational areas, woods, and rivers that provide a green contrast to the city's cultural and concrete side.
9. Dubai, United Arab Emirates
Fun fact: 10 to 15 percent of Dubai's population are Emiratis and the remaining 85% are expatriates with a majority coming from India, Pakistan, and Bangladesh.
10. Sydney, Australia
Fun fact: Sydney accounts for over 25 percent of Australia's total economic activity including services, manufacturing, mining, finance, property, and retail.
11. Bangkok, Thailand
Fun fact: Bangkok's local name is Krung Thep which is short for Krungthepmahanakhon Amonrattanakosin Mahinthara Yutthaya Mahadilok Phop Noppharat Ratchathani Burirom Udom Ratchaniwet Mahasathan Amonphiman Awatansathit Sakkathattiya Witsanukamprasit.
12. Seoul, South Korea
Fun fact: Seoul has become the headquarters for many international companies like Samsung, LG, Hyundai, and Kia. It also generates 20% of the country's gross domestic product.
13. Mexico City, Mexico
Fun fact: Mexico City is constantly sinking and has sunk more than nine meters in certain areas over the last 100 years.
14. Tokyo, Japan
Fun fact: Tokyo is so dense that a one-bedroom apartment is usually not more than 15 square meters.
15. Barcelona, Spain
Fun fact: Barcelona is the second largest city in Spain after Madrid, and the sixth-most populous urban area in the European Union.
16. Buenos Aires, Argentina
Fun fact: 40% of Argentina's population of more than 40 million lives in the greater Buenos Aires metropolitan area.
17. Istanbul, Turkey
Fun fact: Istanbul is the only city in the world that straddles two continents: Asia and Europe.
18. Mumbai, India
Fun fact: The name "Mumbai" is derived from the patron goddess of the Kolis—Mumba Devi. During British rule, the city was known as Bombay.
19. Toronto, Canada
Fun fact: Toronto recently surpassed Chicago to become the 4th largest city in North America, behind Mexico City, New York City, and Los Angeles.
20. Rio de Janeiro, Brazil
Fun fact: Rio de Janeiro is considered the cultural capital of Brazil due to its historic and modern architecture, more than 50 museums, music, literature, and its annual Carnaval celebration.
21. Sao Paulo, Brazil
Fun fact: São Paulo is the largest city in  South America. It is the richest and most populous city in Brazil.
22. Milan, Italy
Fun fact: Milan, the fashion capital of the world, is home of Versace, Pucci, Gucci, Dolce and Gabbana, Prada, and Armani.
23. Cairo, Egypt
Fun fact: Greater Cairo is known as the largest city in the Middle East and second-largest in Africa, covering an area of around 500 square-kilometers and an estimated population of 22 million.
24. Las Vegas, USA
Fun fact: There are actually over 15,000 miles (24,140 kilometers) of neon tubing in Las Vegas.
25. Moscow, Russia
Fun fact: Though Moscow is now the capital city of Russia, it wasn't always the capital. From 1712-1918, St. Petersburg acted as the capital of Russia. Peter the Great had moved the capital in his efforts to westernize the Russian Empire.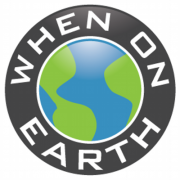 WOE Media
When On Earth Magazine is for people who love travel. We provide informative travel guides, tips, ideas and advice regarding places to see, things to do, what to taste, and much more for world travelers seeking their next dream vacation destination.