20 Scenic Road Trips in North America
You will probably agree that driving through most cities is a chaotic and stressful task. The traffic jams that one has to go through in these places can make commuting quite daunting, coupled with all the hustle and bustle. Looking for an escape from the mad rush to refresh your mind? Why not hop into your car and check out some of the scenic drives in North America? You will find these places appealing either (or both) because of their natural landscape or the history they hold. Without further ado, let's start – in no particular order.
1. Hana Highway (Highway 360)
This route, which extends almost 38 miles from Pauwela to Hana in Hawaii, is noted for its breathtaking, natural views. The Hana Highway is even regarded the most impressive of all coastal drives in Hawaii. It passes through jungle valleys before continuing on an uneven coastline, giving scenic views of waterfalls and the surrounding's natural setting. It must be noted that the highway hugs a cliff, so you need to be bold enough to navigate such a route.
2. Columbia River Highway
Extending more than 70 miles from Troutdale to The Dalles in Oregon, Columbia River Highway is a highway of firsts. It was the first paved road in Northwest and also the first scenic highway in America. The area is also renowned as being a section of the Oregon Trail. The winding Columbia River Highway boasts of spectacular views at any time of the year, with its flora and beautiful waterfalls. Cyclists and hikers will like it here.
3. Overseas Highway
A highly awesome drive, the rightly-named Overseas Highway starts from Key Largo and extends over 100 miles to Key West, both in Florida. The highway is linked to all the islands that make up the Florida Keys and spans 42 bridges, including the awe-inspiring seven-mile bridge.
This highly scenic drive is frequented by many tourists who troop to enjoy all the fun that Margaritaville offers. Attractions along the route include cool beaches with pleasant jade-green waters, museums, parks, historic forts, fishing, diving and snorkeling.
4. Pacific Coast Highway (Route 1)
This route is not only one of the most scenic in the US, but all in the world. The Route 1 of the Pacific Coast Highway runs from Los Angeles to Mendocino, California, topping 500 miles. The drive is especially most scenic in the area between San Luis Obispo and Monterey. The route, which features somewhat risky twists and turns, overlooks pine forests on one side and the Pacific Ocean on the other.
5. Blue Ridge Parkway
This is the place to head if you desire the tranquility that the country offers. Blue Ridge Parkway, which extends from Virginia to North Carolina, is set in a mountainous landscape, featuring a spectacular forest, white waterfalls and rapid streams. The beauty and air quality around here is simply stunning.
6. Yellowhead Highway
This route provides a great way to explore the geographical diversity that Canada has to offer. The Yellowhead Highway runs from the prairies in the north through the Canadian Rockies. A stop at North Battleford or Lloydminster is worthy of consideration as your drive may turn somewhat lonely before you hit the Rocky Mountains' starting point, the Kicking Horse Pass, where the landscape transforms significantly.
7. Highway 12
The Highway 12 in Utah is another route where you can treat your eyes to some natural features that are attention-grabbing, especially when you set your eyes on Bryce Canyon which brings the Grand Canyon to mind. This drive features rocks with hues of red and orange as well as aspen and pine forests to leave you marveled as you make your way through rock canyons. Attractions along the drive also include Red Canyon and Grand Staircase-Escalante National Monument.
8. Highway 60
If there is one particular thing that makes Canada's Highway 60 appealing, it is the fact that it runs through Algonquin Park, which is one of the best and most popular parks the country has to offer. You can enjoy the nice view of the wildlife, forests, lakes, cliffs, beaches and rivers as you pass through the park. The highway offers easy access to different areas in park and no permit is needed, except if you intend camping or using any of the facilities in the park.
9. Highway 93
This is a long highway extending from Jasper National Park right in the Canadian Rockies all the way to the proximity of Mexican border, passing through the Columbia Icefields, Snake River Canyon and Bonneville Salt Flats. Considering the length of Highway 93, there is no shortage of attention-hugging sights along the way. A drive along this path promises to be an experience you will not forget for a long time, as it takes you through the Rocky Mountains, Canadian alpines, lakes, glaciers, valleys and desert land.
10. Highway 4 (Pacific Rim Highway)
A drive running from Parksville in the east to Tofino in Vancouver Island, BC, Highway 4 takes you through mountain range, forest and lakes. The route extends for about 150 kilometers. The picturesque town of Tofino is a special highlight of the drive, with its calm and natural ambiance. You can enjoy spectacular views here, including those of the UNESCO Biosphere Reserve, Clayquot Sound, and the Pacific Ocean.
11. Pan-American Highway
This is described as the longest motorable road in the Guinness Book of World Records. The Pan-American Highway is a network of routes totaling around 30,000 miles, ignoring about 60-mile portion called the Darien Gap comprising rainforests. It links almost all countries of mainland Americas. You can enjoy stunning views of lush jungles, arid deserts and other interesting natural features. However, it could be rather dangerous driving over some portions of the highway.
12. Turquoise Trail
Extending some 45 miles between Albuquerque and Santa Fe in New Mexico, the Turquoise Trail is a drive that allows you to treat your eyes to some interesting sights. The trail has – for several thousands of years – been a major trade route. Scenic desert and Tinkertown are two of the attractions you will notice along the way.
13. Sea to Sky Highway
This is a part of the Highway 99 North in Canada that stretches about 150 kilometers. The Sea to Sky Highway, which got a major revamp for the 2010 Winter Olympics, allows you to enjoy a variety of breathtaking views of mountains, waterfall, fjords, lakes and inlets as you coast along on a two-hour drive.
14. US Route 50
This is a route that goes on from Ocean City in Maryland to Sacramento in California. The US Route 50 is also known as the "Loneliest Highway in America," a description given to it by LIFE Magazine because of the section from Ely to Carson City in Nevada. It helps to know that you will have significant desert driving to do along this highway. Attractions along the way include the famous towns of Eureka and Dayton, Carson City and the resort town of Lake Tahoe.
15. San Juan Skyway
The San Juan Skyway in Colorado is a great drive to consider when looking for a place to enjoy beautiful views of alpine forests and mountains. You will enjoy the view of snow melting during spring and transforming into waterfalls streaming down below. Interesting sights along the way also include ruins of ancient Pueblo Indians.
16. Brandywine Valley
This may not be as long as many of the others, but the drive is no less scenic. Brandywine Valley, which straddles southeastern Pennsylvania and northern Delaware, offers a pristine countryside ambiance with its associated calm and natural landscape. Its features include rolling hills, historic houses and, of course, valleys. The drive is particularly fitting if you an ardent history student, with this being the setting for the Battle of Brandywine in 1777.
17. Badlands Trail
Situated in Alberta, Canada, Badlands Trail offers a different type of appeal — a landscape reminiscent of the surface of the moon. The terrain is so rugged that some people take several days to fully explore the area, although you can drive through in a matter of few hours. The trail goes on through Calgary to Lethbridge. The region near Drumheller is noted for its expansive dinosaur fossil fields.
18. Hilo-Hamakua Heritage Coastline Drive
Sitting next to the Hilo Bay, Hawaii's Hilo-Hamakua Heritage Coastline drive is the ideal location for some pleasant sightseeing. You have the opportunity to relish the sights of lush greenery, greenish-blue waters and other wonderful features that Hawaii is known for. You will have enough time to take everything in – and the narrow and twisting nature of the roads will ensure that – as you will be forced to travel slowly.
19. Cabot Trail
This drive in Nova Scotia, Canada stretches about 185 miles long and spirals around the northern section of Cape Breton Island. Cabot Trail, which is named after the explorer John Cabot, offers stunning views of luxuriant terrains: the Atlantic Ocean and the Gulf of St. Lawrence. It takes several hours to drive through the trail as many tourists do take their time to check out the picturesque towns littering the sides of the scenic drive.
20. St. Lawrence Route
Also known as Route du Fleuve, St. Lawrence Route is a 30-mile portion on Highway 362 connecting Baie-Saint-Paul to La Malbaien. As you progress along the drive, you will notice the terrain changing with the slopes of the Laurentian Mountains eventually meeting the St. Lawrence River. The drive along this route to Charlevoix in Quebec leads you through several quaint towns and villages, with a number of provincial parks available to enable you to explore the terrain better.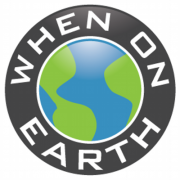 WOE Media
When On Earth Magazine is for people who love travel. We provide informative travel guides, tips, ideas and advice regarding places to see, things to do, what to taste, and much more for world travelers seeking their next dream vacation destination.