20 Global-Issues Ad Campaigns You Can't Ignore
The overwhelming flow of advertisements around us sometimes make us annoyed but it is also not rare to stumble upon some ad campaigns that make us wonder, force us to think, and inspire us to take actions! We combed the Internet to make a list of 20 powerful global issue ad campaigns published in the last couple of years that have caught our attention, shocked us, and struck a chord in our hearts.
1. Save Paper. Save Earth.
Paper is made of trees. So, using more paper means cutting down more trees, resulting in adverse effects on the environment. Denmark's Saatchi & Saatchi advertising agency has created a shocker, showing the map of South America continent turning from green to black with the excessive use of paper.
2. Take Action for Real. Not In Facebook.
Singapore's Publicis advertising agency has mocked our overwhelming attachment to social media and the tendency to avoid our humanitarian duties just by showing superficial sympathies on social media platforms. It urges us to take action for real and to change life for real.
3. Auto-Complete Truth
Auto-complete Truth is a campaign focused on women's rights, empowerment and gender equality created by Memac Ogilvy & Mather Dubai in connection with UN Women. This 2013 campaign was shared more than 150,000 times on Facebook, making it the most-shared item of the year on Adweek.com.
4. Stop Drunk-Driving! Stop Violence!
Drunk driving is an alarming issue in every corner of the world. It costs lives and causes plight to many families. So, Brazilian advertising company Terremoto Propaganda calls out for stopping the violence by stopping drunk-driving.
5. No Shark Is More Terrifying.
The perpetual contamination of nature has damaged the natural environment and jeopardized the lives of thousands of sea creatures. It is terrifying to catch a glimpse  of a shark at sea. However, in this ad for seeking fund for nature, Turkey's advertizing agency DDB&CO picturees how horrifying it would be if there were no shark at all!
6. Breathing or Taking Bullets?
Air pollution is a global problem, which is causing death and disease to millions of people around the world. This ad represents chimney funnel as the barrel of a pistol, suggesting the deadliness of this natural disaster.
7. Our Apathy, Their Death.
This powerful ad bird conservation from South Africa's advertizing agency TBWA shows how our callousness is leading to the deaths of wild animals. It implies that thousands of animals will die if we don't become conscious about the management of waste materials.
8. When You See A Tuna, Think Panda
This ad campaign from Sea Shepherd Conservation Society aims at highlighting the plight of Tuna overfishing by challenging you to find empathy for creatures that do not fit our mold of "cuteness".
9. Negligence Is Destroying Your Child.
Does child abuse always cause by outsiders? No! Your persistent indifference and negligence can also devastate him/her psychologically. To illustrate the gravity of the matter, Australian Childhood Foundation has used a mannequin dressed as a kid, showing that how your negligence can suck the life out of your child.
10. Not Here, But Somewhere!
Amnesty International's Creative Art Director Pius Walker has created this powerful ad to show the ugliest payoff of the growing unrest across the world. Are you relaxed that it is not happening in your country? Don't be! Because, it is happening somewhere and it can happen to you too.
11. Plastic Bags Kill Animals.
We all know that plastic materials are harmful for the environment. But, this advertisement is actually making our eyes wide open about how plastic bags are killing wildlife! The ad campaign is a joint production of Belgium's Duval Guillaume and Malaysia's BBDO Malaysia.
12. Karma Will Find You!
What will happen when our insensitive treatment to nature will be returned to us manifold? Frightening, right? UAE's JWT Advertizing Agency hits the bull's eye! Some junk materials served with a dish of oysters perfectly shows what we are going to get in return of polluting the seawater.
13. Save Earth's Lungs!
Forests are like the lungs of the world. We have already damaged it by cutting down trees in a massive rate. So, it's time for us to stop and save the greens before the lungs are irrevocably damaged. France's TBWA has created this beautiful ad for the World Wildlife Foundation (WWF).
14. Don't Buy Exotic Animal Souvenirs.
Before buying exotic animal souvenirs next time, you should probably check your hands if they are smeared with blood! Poland's LOWE GGK shows how your travel bag is leaving a trail of blood behind you.
15. Climate Change Is Happening.
Two images are merged into one to illustrate the frightening nature of climate change. Demanding a fair climate change agreement in Copenhagen, Argentina's Francisco Espinosa implies that the superpowers' irresponsible pollution affects the climate of the entire world.
16. Your Leftovers, Someone's 'Meal of the Day'.
Think twice next time before throwing away your 'terrible' meal or wasting the leftovers because it can be the best meal ever for so many people. Brazil's marketing agency BorghiErh/Lowe urges you to help fighting the hunger game by donating your leftovers to the destitute.
17. Don't Turn Deaf to Human Rights.
Don't be deaf to cruel treatments of other people. It makes you a passive ally in denying their basic human rights. New Zealand's Colenso BBDO has made this wonderful ad for the Amnesty International, urging people to speak out for the tortured and deprived.
18. One Child Is Holding Something That's Been Banned In America To Protect Them. Guess Which One?
This ad from Moms Demand Action wonders why Kinder Surprise eggs are harder to buy in America than automatic weapons.
19. Be Vocal for a Strong Climate Law.
Global warming is a serious issue. Whether our political leaders acknowledge it or not, Mother Earth has already started showing signs of struggle. Belgium's TBWA conveys the message that the countries around the world should execute a strong climate law.
20. Give Them a Childhood.
Every child deserves a proper childhood but millions of children around the world are deprived of it. However, you can help to get them one! The brilliant ad is created by Egypt's TBWA.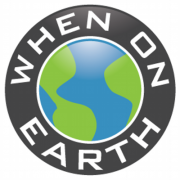 WOE Media
When On Earth Magazine is for people who love travel. We provide informative travel guides, tips, ideas and advice regarding places to see, things to do, what to taste, and much more for world travelers seeking their next dream vacation destination.