16 Attractions that You're Missing by Not Traveling Around China
Do you think China is too huge to handle? It definitely is with a total area of 9.6 million square kilometers, covering over 22 provinces, five autonomous regions, four direct-controlled municipalities, and two special administrative regions. Attractions are abundant in China and there's no way you should miss out on experiencing them in real life. Check out this list with one featured attraction for each Chinese administrative division to find out what you've been missing in this country.
1. Muztagh Ata, Xinjiang
Just by going through the Karakoram Highway you can easily gain access to the grounds of Muztagh Ata, a 7000-meter peak popular for its easy and reasonably-priced hiking routes. The name Muztagh Ata means 'Father of Ice Mountain' in the local Uyghur language, and it's obvious why the peak should be called with such name. It's close to the Silk Road and the views over Subashi Valley and Karakol Lake are priceless rewards that should pay for the long climb.
2. Rongbuk Glacier, Tibet
An amazing river of ice sits below the icy north face of Mount Everest. The S-shaped curve of ice is known as the Rongbuk Glaciers covering a total length of 22.4 kilometers and an area of 85.4 square kilometers. If you go to the Qomolangma Nature Reserve, you'll witness the largest glacier standing like a giant pyramid together with magnificent glacial lakes, cliffs, and caves. Unfortunately, Rongbuk Glacier can't escape the effect of global warming and it's evident with the fields of separated ice pinnacles and shrunken ice streams.
3. Helan Mountains, Inner Mongolia
Helan Mountains is a significant group of rock formations between the Yinchuan Plain and the Inner Mongolia Prairie, parallel to Yellow River. The mountains have been a rich area for plants and rare animals, and also a suitable place for wine production. Moreover, it is known for its spectacular rock paintings created during the Shang and Zhou dynasties depicting the ancient people's lives and dreams.
4. Amnye Machen, Qinghai
Amnye Machen is Amdo's most sacred mountain where pilgrims climb around for weeks, passing by the monasteries that lie through the route of the 6262-meter peak believed to be protected by the deity Machen Pomra.
5. Huanglong Scenic and Historic Interest Area, Sichuan
Located in Songpan County, the Huanglong Scenic Area is a definite eye-cooler due to its colorful clear ponds scattered along the valley that can sometimes shimmer with a golden hue due to the valley's limestone deposits.
6. Wudalianchi Geopark, Heilongjiang
Wudalianchi Geopark is known for its five lakes all linked to each other and the 14 volcanoes existing from 2 million to 280 years ago. These volcanoes are known to be the most complete, the most densely distributed, and the most representative volcano clusters in the world.
7. Zhangye Danxia National Geological Park, Gansu
Red cliffs reaching a hundred meters high decorate the landscape of Danxia. These formations magically transform its color from shades of red to awesome layers of green, red, and orange dependent to the sun's rays and weather.
8. Tiger Leaping Gorge, Yunnan
The Tiger Leaping Gorge is one of the world's deepest gorges that goes 3,900 meters from the waters of the Jinsha River to Haba Mountain. It is also declared as a UNESCO World Heritage for the rare animals and plants living in its ecological site.
9. Reed Flute Cave, Guangxi
The verdant reeds that grow outside the cave used to make flutes were the reason why the cave got its unique name. But the main spectacle here are the various stalactites, stalagmites, and other rock formations illuminated by multi-colored lighting to give visitors a surreal experience.
10. Tianzi Mountain Nature Reserve, Hunan
One of the four scenic spots in Wulingyuan, the Tianzi Mountain Nature Reserve covers an area of 67 square kilometers full of stunning peaks, rising one after the other, and pine trees to complete the scenery.
11. Mount Hua, Shaanxi
Mount Hua is a high mountain range famous for its five peaks and its trail to a tea house located 2,160 meters high on the mountains. This trail is popularly known as the world's most dangerous trail as it dares climbers to go through a cliff-side mountain climb.
12. Mount Cangyan, Hebei
Combining nature to man-made creations, the Mount Cangyan is an area that features grotesque stones, valleys, springs, verdant cypress trees, temples, and pagodas. It has been a part of history and one example is its relation to the beginnings of Buddhist culture in China.
13. Tenglong Cave, Hubei
Believed to be the longest monomer karst cave system in the world, Tenglong Cave is a cave cluster with Dry Cave and Water Cave as its main scenes. All in all the cave has five peaks, ten halls, and more than ten underground waterfalls to discover.
14. Mount Changbai, Jilin
Mount Changbai is an active volcano known to be located right at the border of China and North Korea. Its main peak, Baiyun, rises 2,691 meters above sea level, all covered with white rocks and snow making it look like a white puff of cloud. The most popular attraction here is the "Heaven Lake", a crater lake located at the top of the mountain.
15. Seven Star Crags, Guangdong
Seven Star Crags consists of seven limestone hillocks: Langfeng Rock, Jade Screen Rock, Stone Chamber Rock, Heavenly Pillar Rock, Toad Rock, Immortal Palm Rock, and Apo Rock. If you look at these 'stars' from above, they resemble the Big Dipper constellation.
16. Huangguoshu Waterfall, Guizhou
Located 45 kilometers southwest of Anshun city proper, the Huangguoshu Waterfall is the largest waterfall in China, measuring 67 meters high and 83.3 meters wide. There is a naturally formed cave behind the waterfall called the Water Curtain Cave where visitors can visit to watch and listen the waterfall up close.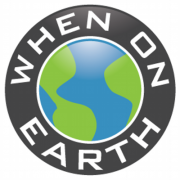 WOE Media
When On Earth Magazine is for people who love travel. We provide informative travel guides, tips, ideas and advice regarding places to see, things to do, what to taste, and much more for world travelers seeking their next dream vacation destination.