13 Parisian Attractions to Visit for an Amélie – Inspired Itinerary
Are you a fan of Jean-Pierre Jeunet's Le Fabuleux Destin d'Amélie Poulain, or more known worldwide as Amélie? If you've always found yourself falling in love every time you see the film and want to take it up a notch and experience our lovely Amélie's different whereabouts in Paris, then read this list, save it, and share it. What you only need to do next is book a ticket to Paris for an Amélie-inspired city tour.
1. Rue St. Vincent
Rue St. Vincent is the location at the beginning of the film where you can see a blue bottle tumbling down the street.
Rue St. Vincent is a steep street that runs alongside the cemetery towards Sacre Coeur. As you walk through this street, you'll also pass by a hidden working vineyard of Clos Montmarte.
2. Au Marche de la Butte at Maison Collignon, 56 Rue dues Trois Freres, 18th arrondissement
The apartment where Amelie lives is right at Maison Collignon and below it is the grocery store where Amelie sees her friend Lucien and the abusive greengrocer Mr. Collignon.
3. Sacre Coeur Basilica, 35 Rue du Chevalier de la Barre
At the foot of Sacre Coeur, you'll get to the cute carousel where Amelie drew blue arrows that Nino Quincampoix followed before he could retrieve his scrapbook.
If you're going to the carousel, take great caution as this area is filled with scam artists who try to block you, automatically ties a homemade bracelet on your wrist, and demand payment.
4. Metro Lamarck-Caulaincourt
You'll see the Metro Lamarck-Caulaincourt's entrance in the film as the place where Amelie drops off the blind old man after guiding him through the neighborhood, describing the random things happening as they walk. The metro station's entrance is where you can see the blind old man glow with happiness.
5. Café les Deux Moulin, 15 Rue Lepic
Café les Deux Moulin could be the most popular site for Amelie fans. Many memorable movie scenes happened in this café where Amelie works such as the part where she melts after having a short but heart-stopping encounter with Nino.
If you visit the café, you'll be smiling to see the place filled with Amelie memorabilia from the tables to its unisex restroom. Also, the café is a comfy place (but can be crowded) to have a break with their good selections of light meals and wine. Don't ever miss their crème brulee d'Amelie!
6. Palace Video, Boulevard de Clichy, Pigalle
When you visit the neon-lit district of Pigalle, you can pass by the sex shop "Palace Video" where Nino works. The store is now named as "Toys Palace".
7. Canal St. Martin, Quai de Valmy
You'll see a scene in the movie where Amelie stands on one of Canal St. Martin's locks and enjoys doing one of her favorite pastime – skipping stones.
The 4.5-kilometer long Canal St. Martin connects the Canal de l'Ourcq to the river Seine, running underground between Bastille and Republique.
8. Notre Dame Cathedral, Jean-Paul II
Amelie may have an odd life as a child as she stayed most of the time with her parents. Unfortunately, her mother died due to an accident in Notre Dame Cathedral where she got killed by a tourist who unexpectedly dropped from the tower of the cathedral.
9. Pont de Arts
The slow motion scene where Amelie walks over the bridge with a happy look on her face and a firm thought that she wants to help people happened in Pont des Arts.
Pont de Arts is known for its millions of "love locks" that covered the bridge's railings, palisades, and parapets. It ended up in a risky weight of 45 tonnes in 2015 which lead to a decision to remove the padlocks for safety and the preservation of Paris' historic attraction.
10. Abbesses Metro Station
Amelie is in Abbesses Metro Station when she suddenly hears music playing in the subway. She walks to the direction of the sound and found the blind old man playing the music. Also, that's the place where she first saw Nino, who at that time looks for some photos under the photo booth.
11. Gare du Nord, Rue de Dunkerque
Amelie takes a train in Gare du Nord to visit her father. There's a short scene where she gives some spare coins to a beggar, but he rejected and answered "I don't work on Sundays".
12. Gare de l'Est
Gare de l'Est is the terminal where Amelie finds out the mystery man whose torn up photos are found in several photo booths around the city. It turns out that he's the photo booth technician who often takes sample shots after repairing the booths.
13. La Motte-Picquet – Grenelle Metro Station
In the Line 6 Station of La Motte-Picquet – Grenelle Metro Station, Amelie sees Nino's "Ou et quand?" posters.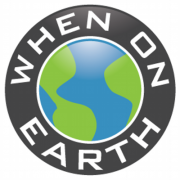 WOE Media
When On Earth Magazine is for people who love travel. We provide informative travel guides, tips, ideas and advice regarding places to see, things to do, what to taste, and much more for world travelers seeking their next dream vacation destination.