10 Creative Sculptures in the USA
Feeling artsy and want to know the worth-seeing sculptures of America? Here are the 10 creative sculptures that you need to see.
1. Metamorphosis in Charlotte, North Carolina
David Černý's Metamorphosis is a mirrored sculpture that can be seen at the Whitehall Technology Park in Charlotte, North Carolina. It is made up of almost 40 steel pieces grouped into 7 segments which independently rotate 360-degrees. When these segments are aligned, you'll be able to see a giant silver head that spits water from its mouth. The Metamorphosis is noted to be a self-portrait of Černý's psyche.
2. Walking to the Sky in Dallas, Texas
Walking to the Sky is created by Jonathan Borofsky and the original work can be seen at the Nasher Sculpture Center in Dallas, Texas. Copies were also installed in Carnegie Mellon University in Pittsburgh, Pennsylvania and in Seoul, Korea. The sculpture was said to be "a celebration of the human potential for discovering who we are and where we need to go."
3. Awakening in Prince George's County, Maryland
The Awakening sculpture created by J. Seward Johnson Jr. was first seen at East Potomac Park in Washington D.C. before it was moved to the National Harbor resort across the Potomac River in Prince George's County, Maryland.  The 21-meter giant that struggles to get off the ground is made up of five separate aluminum pieces buried in the ground. You can also see a copy of the sculpture in Chesterfield, Missouri.
4. Sewer Alligator in New York City, New York
As a part of "Life Underground" series, Tom Otterness created a bronze creature that popped out from a manhole and appears to be a human in a suit with an alligator head. Its jaws clamped onto a tiny man in a suit with a moneybag head.
5. Giant Fork in Springfield, Missouri
The giant fork stands at almost 11 meters and 11 tons toward a three-story building occupied by the Noble & Associates ad agency. The fork originally stood in front of a restaurant in 1998 but the business failed and that's why you can see it in front of an ad agency. You can see it in a subway station at the corner of 8th Ave. and 14th St.
6. Corporate Head in Los Angeles, California
The Corporate Head sculpture by the artist Terry Allen and the poet Phillip Levine is a funny representation of corporate attitudes and the pressures that they face everyday. You can see the sculpture at the Ernst & Young Plaza.
7. Freedom Sculpture in Philadelphia, Pennsylvania
Freedom is a 6-meter long and 2.4-meter wide bronze artwork of Zenos Frudakis that you can see at the GSK World Headquarters in Philadelphia. Frudakis stated that the sculpture is "about the struggle for achievement of freedom through the creative process". There are things hidden in the background that encourages the viewer to not only see the work as a whole, but to also interact with it physically by looking at every detail.
8. The Knotted Gun in Turtle Bay, New York
Originally named as "Non-Violence", the sculpture is more known as "The Knotted Gun" which was designed in late 1980 by the Swedish artist, Carl Fredrik Reuterswärd. The gun was created as a pro-peace sculpture inspired by the death of his friend, John Lennon.
9. Expansion in New York City, New York
Expansion, the sculpture of Paige Bradley, questions the human existence and dares us to go beyond what we are. It is currently in a private collection in New York City and copies can be seen in London, UK and Palm Desert, California.
10. Cloud Gate in Chicago, Illinois
The Cloud Gate is British artist Anish Kapoor's first public outdoor work installed in the United States. The 110-ton sculpture inspired by liquid mercury can be seen reflecting Chicago's famous skyline and clouds above its polished stainless-steel plates. There's a gate beneath the almost 4-meter arch that leads you to a concave chamber. The 20-meter long and 10-meter high sculpture is one of the largest sculptures in the world.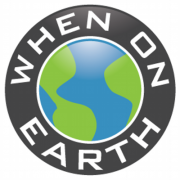 WOE Media
When On Earth Magazine is for people who love travel. We provide informative travel guides, tips, ideas and advice regarding places to see, things to do, what to taste, and much more for world travelers seeking their next dream vacation destination.