10 Cool Gifts To Get For The Chronic Traveller
Do you have a friend or family member with wanderlust? Do they often head off to far-flung places and enjoy living out of a suitcase? This guide looks at ten great gifts that would be perfect for their traveling needs, from the useful and practical to the unusual and bizarre, you are bound to find something to match their personality and your budget.
Landing Gear Passport Holder Neck Pouch
This is a perfect gift for those who travel a lot as it keeps everything you need in one place. It's a comfortable and lightweight pouch that you can wear around your neck, keeping your most important travel documents within easy reach. It has three compartments to help you to organize your travel documents and two zip pockets to store valuables.
Luckies of London Scratch Map – Deluxe Edition
This scratch map is a way to log all the places you have visited by scratching off the top foil to reveal a colour underneath. The more places you travel, the more colourful your map becomes. This map comes with a black background with matte gold details. It makes a perfect gift for globetrotters.
Belkin 3-Outlet Mini Travel Swivel Charger
The modern age has given us lots of great gadgets that we just can't do without. The problem when traveling is most of them needs to be charged and sometimes it's difficult to find enough power-outlets to charge all of them at the same time. This travel charger will solve that problem as it allows you to plug three devices into a single outlet and has two USB ports for charging too.
Microfiber Travel Towels
These towels are ideal for travel as they are very lightweight and compact. They come with their own nylon carry case. They can absorb seven to nine times their weight in moisture but dry out super quick and they feel so soft. The fabric is antimicrobial and can be easily cleaned while traveling too.
Thermos Stainless King Food Jar
This food jar is suitable for both hot and cold food and is made from stainless steel both inside and out making it easy to clean. It's ideal for people who like to travel and has the Thermos vacuum insulation technology, which means the temperature, doesn't change inside the container. It's leak proof and stays cool to the touch.
Portable Power Bank
This little gadget is able to supply power to almost any hand-held device including cameras, phones and tablets. It's a great back up if you can't find a power outlet and small enough to carry in your case or backpack. It's easy to use and a great gift for those who like to travel for business or pleasure.
Valery Classic Leather Notebook
This unusual notebook is a perfect traveling companion for those who like to document their memories of where they've been and the sights they have seen. It's a loose-leaf journal and extra paper is available. Made from high quality leather with metal wheel and anchor charms hanging on the leather cord ties make this a really unique and beautiful gift for the global traveller.
P Ez Travel Urinal
Have you ever been desperate to use the bathroom and when you eventually find one it's dirty and disgusting? This little gadget is perfect for situations just like that and allows women of all ages to urinate without undressing. It is made from hygienic, soft flexible silicone and is easy to use and clean. A perfect traveling companion.
Little John Portable Urinal
Have you ever been hiking, camping or sailing out in the middle of nowhere with no bathroom in sight? This portable urinal provides the perfect solution as it's made from unbreakable plastic and holds 28oz of urine with a screw cap to prevent leaks and spills. It's compact and easy to store in your car, backpack or on your boat.
How to Shit Around the World: The Art of Staying Clean and Healthy While Traveling
There is no delicate way to talk about the most basic of our bodily functions and around the world there are many things that can upset the balance of our digestive system which many travellers experience on their trips. This book is an insightful and witty guide that looks at ways to combat some of the more common ailments and stay healthy while away. Quite an unusual and unexpected gift for traveling fans.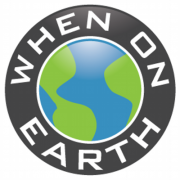 WOE Media
When On Earth Magazine is for people who love travel. We provide informative travel guides, tips, ideas and advice regarding places to see, things to do, what to taste, and much more for world travelers seeking their next dream vacation destination.