10 Best Alternative Panoramic Spots of Europe's Famous Cities
You just want a selfie or a well-shot panorama of a European city you've always wanted to visit, but then there's always a problem that stops you from doing so. Long lines, exaggerated fees, photo-bombers, and more are always there especially in the touristy areas.
All hope is not lost and there are other places which you can visit. Although they're not really the popular sites that go in the book, these are the best places where you can go shoot like a pro from any angle or just feel the scenery without any disturbance.
1. Cité de l'Architecture et du Patrimoine, Paris, France
The top locations where the crowds go for the panoramic views of Paris include the Eiffel Tower, Notre Dame, Sacre-Coeur, and Tour Montparnasse. Better save yourself from the dreadful lines and fees by visiting the Galerie des Moulages and the Galerie d'Archtecture in Cite de l'Architecture et du Patrimoine.
The Cité de l'Architecture et du Patrimoine is situated in the Palais de Chaillot that's just opposite the Eiffel Tower. It features the rich architectural heritage of France for 1000 years and counting –all under one roof. You'll see life-sized creations such as the doorway of Chartres cathedral and the apartment from Corbusier's "Cité Radieuse".
2. Waterloo Bridge, London, United Kingdom
Instead of the London Eye, St. Paul's Cathedral, or the Tower Bridge, why not go further into the not-so-crowded places where you can fit these attractions in a postcard-worthy shot? All you got to do is go to the Waterloo Bridge to get that magical London view, complete with the sunset, the river, the London Eye, Canary Wharf, the Houses of Parliament, the Gherkin, the Shard, Blackfriars Railway Bridge, and all of what makes London – well, London.
Drop by the south end of the bridge called South Bank where you can find the illuminating National Theatre at night.
3. Turo de la Rovira, Barcelona, Spain
Park Guell is an unbeatable entry when planning for that Barcelona itinerary. It has Gaudi's art and Barcelona's amazing panorama in one place. But if you want your view and experience to be clutter-free, go to Turo de la Rovira.
Turo de la Rovira is the off the beaten spot for those who want to relax, have a picnic, have a short hike and cycle while being surrounded by a full 360º panoramic view of Barcelona. From the nearest Alfons X station, you'll have to walk uphill for 20-25 minutes to reach this un-touristy site.
4. Parking 58, Brussels, Belgium
Although Atomium's odd structure is not something you should miss seeing and visiting, there's a cheaper and faster way to fly above Brussels. Just take the elevator of Parking 58 located at Rue de l'Eveque in the heart of Brussels.
This not-so-appealing building nearby the Opera was built for the 1958 Brussels Expo. From its 10th floor, you can see Palais de Justice, the Atomium, the Town Hall in Grand Place, and the Basilica of Koekelberg.
5. Felix Meritis Observatory, Amsterdam, the Netherlands
There could be a lot of high hotels and towers that will serve your need to see the best panoramic view of Amsterdam, but it's a great deal to give the historic Felix Meritis Observatory a chance to be included in the list.
Felix Meritis, located in Keizersgracht, is a building established in 1776 to bring similar minds together in the fields of art, culture, science, politics, and philosophy. On the top floor of the building, you'll find Amsterdam's oldest remaining observatory that was used before for astronomical and meteorological studies. In 2013, it was reopened again as a site for those who want to see how Amsterdam looks like from above.
6. Parco Savello – Giardino degli Aranci, Rome, Italy
Feel like a local as you step in the hidden, peaceful and romantic park in Rome, Parco Savello. Walk into Giardina degli Aranci, a small garden decorated by orange trees that leads you to the terrace where you can see Rome from above. The park is located behind the ancient Basilicaof Santa Sabina and beside Piazza Pietro d'Illiria.
7. Panoramapunkt, Berlin, Germany
Skip the queue in Television Tower and just head to a better and fresher alternative, the Panoramapunkt. Located in Potsdamer Platz in Berlin, Panoramapunkt gives the best views of the city's landmarks such as the Brandenburg Gate, the Reichstag, the Federal Chancellery, Bellevue Palace, Berlin Cathedral, the TV Tower, Gendarmenmarkt, the Holocaust Memorial , and the Kaiser WIlhelm Memorial Church. It's known as Europe's fastest lift.
8. Zizkov Televison Tower, Prague, Czech Republic
It's not really a popular destination for tourists in Prague, but Zizkov Television Tower offers a spectacular panoramic view of the city. It might have been the world's 2nd ugliest building, but who cares if it can give you a view you won't see anywhere else – with just two lifts away. This tower considered to be the highest in Czech Republic has a height of 260 meters and here, you can also see David Cerny's crawling baby sculptures.
9. Justiz Café of Palace of Justice, Vienna, Austria
Ringstrasse can be a preferred spot to start your Vienna tour, but if it feels too busy and you want a place where you can just sit and relax while watching the city from above, visit the Justiz Café located inside the Palace of Justice. The café has been a popular place for events, parties, weddings, and for simple dinners. Go to the terrace and you'll be greeted by the beauty of Vienna.
10. Set Üstü Çay Bahçesi, Istanbul, Turkey
You may go to the famous city spots like the lively Ortakoy or the historic Galata Tower. However, if you want to break away from the busy streets, there's a peaceful green space known as Gulhane Park that you can visit. Walk around the park until you find a small terrace tea garden at the top of the hill.
Set Üstü Çay Bahçesi let's you watch the ferries traveling from Europe to Asia with the breathtaking panoramic view of Istanbul as the background while sipping a cup of good Turkish tea.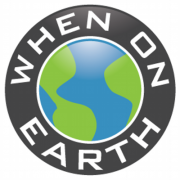 WOE Media
When On Earth Magazine is for people who love travel. We provide informative travel guides, tips, ideas and advice regarding places to see, things to do, what to taste, and much more for world travelers seeking their next dream vacation destination.