10 Awesome Hot Springs in Europe You Should Visit
You could be squealing for a remedy for your sore muscles, or looking for a different kind of relaxation. Going to a hot spring could be a good answer for those and if in case you're in Europe, you can check out these 10 amazing hot springs. Some are kept outdoors and some are housed in astonishing architecture. The choice is all up to you, but all can guarantee you a stress-free time in their waters entirely heated by nature.
1. Landmannalaugar, Iceland
In the center of the island lies Landmannalaugar right at the edge of a lava field. It is completely inaccessible during the winter season. But if you visit by summer, you can have a quick dip in its geothermal hot springs or be struck by its surrounding landscape. Also, Landmannalaugar is also famous for its hiking trails. Relaxing in its hot springs will surely be a good treat to soothe your muscles after a long hike.
2. Bath, UK
Bath has long been a popular site, first known to be mysterious yet a haven for those who wanted to cure their ailments. History also states it as one of the Romans' favorite resting spot. Bath has improved greatly as time passed by and it turned into one of the greatest architectural sights in Europe while staying as an establishment for water-cure treatments.
3. Bains De Dorres, France
Relax in a 37-40C thermal bath while viewing the stunning valleys of Bains de Dorres, located in the Pyrenees close to the Spanish Border. Just like the hot springs of Bath, Bains de Dorres's baths date back to the Roman times. For those who want to relax in a more natural setting, Bains de Dorres is just the right place to dip your toes in.
4. Wiesbaden, Germany
If you're looking for a place wherein you can soak and at the same time treat your eyes in fine interiors, Germany's Kaiser-Friedrich-Therme indoor bath won't make you think twice. It first opened as an "orthopedic healing institute" in 1836 to take advantage of its 66C water. The indoor bath is decorated with Jugendstil ceramics and frescos, creating a luxurious experience.
5. Therme Vals, Switzerland
60,000 slabs of quartz was used to create a hotel and spa over the thermal springs in the Graubünden canton in Switzerland. The mineral-rich water in Therme Vals emerges at 29.4C while the water in the hydrotherapy pools range from 32C to 42C. What else can you see here? Amazing architecture obviously.
6. Pantelleria, Italy
Pantelleria is a tiny Italian island located at the Strait of Sicily in the Mediterranean Sea, almost close to Tunisia. It boasts a selection of places to go for a hot bath due to the continuous volcanic activity around the area. The best thing about Pantelleria's thermal baths: They're all free.
7. Aquadome, Austria
A complex of outdoor and indoor pools, the Aquadome in Austria isn't just like any other thermal baths you've seen. It features three outdoor thermal pools in bowl-shaped basins, giving you the chance to relax and savor the scenery around it. The huge glass crystal houses two indoor pools that are directly connected to the outdoor pools. Other than those, the Aquadome is an ideal place for adults and children with its attractions like the 90 m long water slide and waterfalls.
8. Heviz, Hungary
The town of Heviz is considered as a spa town in Zala county, Hungary. It is located near the Heviz Lake which is known to be the world's second largest thermal lake. The lake never cools off below 23C, even during the winter season, due to the hot spring 40m under it which makes it available all-year round.
9. Piešťany, Slovakia
Thermal water and sulphuric mud run abundant in Piešťany, the most famous spa town in Slovakia. People first settled near the sandy soils around the River Vah and further discoveries tell that Piešťany has long been an attraction for the people due to its hot springs. Also, the curative effects of the springs were discovered by  the Romans, and later on further approved and used by the doctors and physicians for modern medicine and therapies.
10. Limnos, Greece
Limnos is the holy island Hephaistos, the Greek god of blacksmiths, craftsmen, fire, and volcanoes. The Mount Moschylus was known to have released bursts of asphaltic gas. These hints will give you an idea on how this island can undeniably be the perfect place to give a complete hot bath to soothe aching bodies. Other than the hot springs, you can also enjoy Limnos's turquoise blue waters, white sand beaches, and their must-visit vineyards.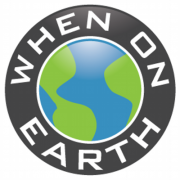 WOE Media
When On Earth Magazine is for people who love travel. We provide informative travel guides, tips, ideas and advice regarding places to see, things to do, what to taste, and much more for world travelers seeking their next dream vacation destination.