10 Football Pitches With Amazingly Beautiful Views
Tired of the boring stadiums that don't offer that much eye-candy? You can beat that boredom by traveling to 10 of the world's football pitches that wouldn't let you down with their beautiful sights. You'll realize later that playing football on the edge of a mountain or above water isn't impossible at all.
1. Eidi Stadium, Faroe Islands
The Eidi Stadium is home to some of the Faroe Islands' semi-professional football teams. It's just a few yards away from the Atlantic Ocean that could've already swallowed a number of footballs coming from this stadium.
2. Estadi Comunal d'Andorra la Vella, Andorra
1,000 is already enough to fill in the seats of Andorra's stadium, and the view of the Pyrenees mountains is surely stunning that'll make you queue early to grab a seat.
3. Ottmar Hitzfeld Stadium, Switzerland
The Ottmar Hotzfeld Stadium is found right on the edge of the mountains of Zermatt in Switzerland. You'll even need to take a cable car before you can step foot on this crazy high ground at 2,000 meters above sea level.
4. Rheinpark Stadion, Vaduz, Liechtenstein
Rheinpark Stadion can handle 6,000 football fans, but can you handle the sight of the Alps watching with you?
5. Hasteinsvollur, Iceland
In Hasteinsvollur, you'll hope that you can focus more on the match even when amazing rock formations surround the field. There's also a volcano sitting right next to the football pitch which you shouldn't mind at all — if you can.
6. Kantrida Stadium, Croatia
Imagine yourself enjoying a game while overlooking the Adriatic Sea. That's a double goal.
7. Koh Panyi, Phang Nga, Thailand
A floating football pitch was built in a fishing village that sits atop on stilts rising over the sea. The floating pitch is a dream made real by the Panyee Football Club, one of Thailand's strongest youth teams. Watch this video if you wanna know the inspiring story.
8. Adidas Futsal Park, Tokyo, Japan
The Adidas Futsal Park is just right at the top of Tokyo's Tokyu Toyoko department store. Let's just hope you're not afraid of heights.
9. Tasiilaq, Greenland
Yes, there's no stopping anyone from playing football even if they're living in Greenland. Tasiilaq is a village surrounded by high mountains so there's nothing else to see here but pure awesomeness. Watch out, you might get hit by a ball.
10. The Float at Marina Bay, Singapore
The world's largest floating stadium is right at Singapore's iconic Marina Bay where you can also see popular tourist sites like the Merlion, The Helix, Marina Bay Sands and Gardens by the Bay.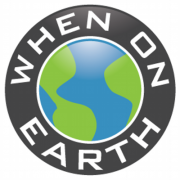 WOE Media
When On Earth Magazine is for people who love travel. We provide informative travel guides, tips, ideas and advice regarding places to see, things to do, what to taste, and much more for world travelers seeking their next dream vacation destination.