10 Amazing Attractions to See in Tunisia
Tunisia has always been linked to a rich culture and its well-known history. Other than its cool stories, Tunisia also has a natural beauty that attracts hundreds of beach bums and those who seek a different kind of adventure in the middle of the desert. Is there anything you need take note of? Worry not. There's a lot to see in this laid-back country, but for starters, here's a guide that can start up your travel cravings right now.
1. Chott el Djerid
Described as one of the Mars-like places on Earth, Chott el Djerid is a seasonal lake found in southwest Tunisia that almost doesn't look like a lake because it is dry for most of the year. It's like an enormous pie baking under the sun until it perfectly forms a hard crust made of sodium chloride with a vivid red color because of its high iron content while sealing its underground water. Wait for the sunrise to witness a spectacular party of colors as the salt rocks turn from red to purple, pink, and green.
2. Grand Erg Oriental
Just south of Chott el Djerid is the Grand Erg Oriental. The erg (a field of sand dunes in the Sahara Desert) covers mostly the Saharan lowlands of northeast Algeria. However, its northeastern edge spills over Tunisia which gives tourists a chance to see the sand dunes. It's a vast playground for visitors who want to experience riding dune buggies and camels, or just sit atop the sand mountains and watch the sunset.
3. Ras R'mel
When on the small island of Djerba in south Tunisia, you must not forget to visit Ras R'mel (meaning "sand cape") which is a 10-kilometers-long  sand bar located in the northern part of the island. Ras R'mel isn't only a star for its sand and surrounding waters but also because of its frequent bird visitors. These visitors are the numerous migratory bird species like spoonbills, plovers, stone-curlews, and pink flamingos.
4. Chebika
A paradise in the middle of the desert, Chebika deserves to be called "Qasr el-Shams" or "Castle of the Sun" because of its surprisingly relaxing and calm environment, and its small blue body of water. It was once used as an outpost by Roman soldiers and a refuge for the Berber people, but it's more of a tourist site nowadays popularly known as the filming location of Star Wars: Episode IV – A New Hope. The oasis is located at the foot of the Djebel el Negueb Mountains.
5. El Djem Amphitheatre
El Djem Amphitheater is the largest coliseum in North Africa. Also a UNESCO-certified World Heritage Site, the amphitheater is a monument that showcases the outstanding influence of Roman architecture. Built around 238 AD, the massive structure was entirely created with stone blocks without any form of foundation. Its façade has three levels of arcades of Corinthian and it can hold up to 35,000 spectators.
6. Ichkeul Lake
Another spot for bird watching, Ichkeul Lake is Tunisia's other pride that made it onto UNESCO's World Heritage Site list. The shallowness and the salinity of the lake allows hundred thousands of waterfowls to visit every year. The migratory birds that can be seen in Ichkeul Lake mostly belong to wigeon, pochard, and coot species.
7. Tabarka
There are the famous Djerba, Sousse, and Hammamet for those who look for a place to lie down on a sandy beach and chill under the sun. Tabarka is also included in Tunisia's beach list but without the popularity the first three have when it comes to foreign beach bums. Go towards the west of the town, almost at the Algerian border, and witness the almost empty small beaches and sand strips.
8. La Galite Islands
From Tabarka, there's an uninhabited rocky island archipelago called La Galite Islands. Punic tombs, Roman remains, abandoned quarries and pirate caves are all scattered around the islands that attract adventurers. Nowadays, locals visit the islands to catch crayfish for a living. However, going there might not be easy for tourists since no regular boat services are available around the area.
9. Carthaginian Ruins
The trip won't be complete without having a short lesson about Tunisia's history and culture. Long before it turned into ruins and a tourist spot, Carthage was home to a brilliant civilization and a well-developed trading empire that covered most of the Mediterranean area. There might not be enough to see around the ruins but the aura that surrounds the area and its rich history makes the visit worthwhile.
10. Matmata
For any Star Wars fan, Matmata would be the best of all the listed sites in their Tunisian getaway. Matmata features the cave-like desert dwellings that show how the Berber people lived in the area despite the harsh desert conditions. This has been a favorite movie set location in some of the Star Wars films and because of this fact, Matmata has been a favorite tourist destination. There's even a hotel that offers you a chance to stay in these unique rock shelters.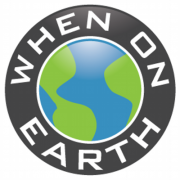 WOE Media
When On Earth Magazine is for people who love travel. We provide informative travel guides, tips, ideas and advice regarding places to see, things to do, what to taste, and much more for world travelers seeking their next dream vacation destination.