Indigenous Daredevils Race With Wooden Scooters in Banaue, Philippines
Most tourists visit Banaue, Philippines to gaze upon its magnificent Banaue Rice Terraces, a UNESCO World Heritage site. But little do they know Banaue is also the place where an extreme daredevil sport is held–one that involves wooden scooters racing top speed down a steep hill, indigenous natives wearing their ethnic costumes, and absolutely no safety measures or equipment.
A centuries-long tradition. the wooden scooter race began from modest roots.  Men-folk of the Ifugao tribe had to walk up to surrounding hills to gather firewood and tend to their crops. After an exhausting day, hours' worth of walking down the hill was rather inconvenient, so they invented wooden scooters to take them back down in a matter of minutes. Soon enough, making wooden scooters became an art form–wooden scooters of all shapes and adornments spread across town and became stunning pieces of indigenous art. To celebrate their unique invention, the Ifugaos held an annual 7-kilometer race down the steep road along the famed Rice Terraces.
Every year, during the Imbayah Festival, a number of Ifugao daredevils dressed only in their indigenous garb speed bravely down a perilous mountain road to the town of Banaue. Powered only by gravity, the riders reach speeds of 50 kilometers per hour, almost as fast as a car breezing down a highway. With absolutely no safety measures, nor even a prescribed helmet for protection, one wrong move would cost the racers their lives.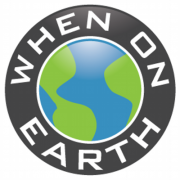 WOE Media
When On Earth Magazine is for people who love travel. We provide informative travel guides, tips, ideas and advice regarding places to see, things to do, what to taste, and much more for world travelers seeking their next dream vacation destination.