The World's Tallest Enclosed Ferris wheel in Turkmenistan
In Ashgabat, Turkmenistan one will find the Alem Cultural and Entertainment Center. The Center was officially opened to the public on May 18, 2012. The Guinness Book of World Records recognizes the Alem Cultural and Entertainment Center as the place that hosts the tallest enclosed Ferris wheel.
The center where the ferris wheel stands is 312 feet in height and has a total of six floors that are seven feet tall each. There are a total of four floors that are above ground and two floors that are below ground. On top of the stands a spire that is 56 feet in height. The Ferris wheel has 24 cars that will hold six passengers at a time.
The view from the ride is beyond words and worthy of making the trip.
The Ferris wheel was built through the Giant Wheels brand which is own and operated by Fabbri Group. The actual height of the ferris wheel is 156 feet, which adds to the three floors on the ground, giving the wheel a total height of 225 feet. The total cost for erecting the center and wheel was estimated to be around $90 million.
For those who are fortunate enough to visit the Alem Cultural and Entertainment Center will also find movie theaters, a planetarium, a bowling alley, and a restaurant. During the evening hours there are often firework shows for special occasions.
During the night, the fountains that grace the front lawn are lighted and make for an amazing picture opportunity for visitors.
Even as you approach the Center for your visit you will be mesmerized by the beauty of the building, the fountains and water, the flags flying out front, and the numerous sculptures. You camera will be working overtime to capture all the breathtaking magnificence.
The complex of the Alem Cultural and Entertainment Center can be seen from miles away and the mighty Ferris wheel stands out against the backdrop of the sky.
From the great height of the Alem Ferris wheel you will be able to see the great site of Turkmenistan that appears as a city built of pure white marble.
Curious to see what it's like to experience the ferris wheel at the Alem Cultural and Entertainment Center?You can see for yourself in this video.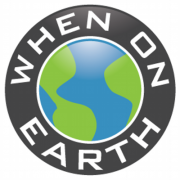 WOE Media
When On Earth Magazine is for people who love travel. We provide informative travel guides, tips, ideas and advice regarding places to see, things to do, what to taste, and much more for world travelers seeking their next dream vacation destination.