The Strange and Interesting Stories of the World's 10 Micronations
A micronation is not a country. It's an entity that claims to be an independent nation or state but is not recognized by world governments or major international organizations. However, being unrecognized doesn't stop them from doing what they plan for their community.
Some micronations have already established their own currency, flags, passports, and stamps. Some have stayed only online without any physical activity and some continue to fight for their vision. Some have become popular among tourists and some stay to be funny and weird stories that make the world a more quirky place to live in.
Here are 10 of the self-declared micronations around the world:
1. Kingdom of North Sudan (2014)
The Kingdom of North Sudan was established by Virginia resident Jeremiah Heaton in the land of Bir Tawil, a land unclaimed by bordering countries, Egypt and Sudan. The reason for claiming this land is undeniably sweet (or maybe eye-rolling?).
Heaton – who we may call King Heaton – searched for an unclaimed land to grant his daughter's wish to be a real princess. On July 16, his daughter's birthday, he planted a homemade blue flag in Bir Tawil's land (top photo) and declared it as the "Kingdom of North Sudan". But of course, it's not yet happily ever after the moment and there are still legal processes to take care of.
2. Naminara Republic (2006)
The Naminara Republic was the birth name of the island of Namiseom used when it declared its cultural independence.
Namiseom is a tiny half-moon shaped island located in Chunchon, Gangwon Province, 60 km from Seoul. After being "Naminara", it began to have its own national flag, anthem, currency, passports, phone cards, stamps, orthography, and certification of citizenship.
3. Acting Witan of Mercia (2003)
The original Kingdom of Mercia was centered on the valley of the River Trent in the region now known as the English Midlands. It dominated most of England for 300 years until it was annihilated by the Norman invaders and absorbed into the Danelaw together with London and northern England.
Mercia was already history but for the Acting Witan of Mercia, it isn't and should be recreated. The group wants the area within the former Anglo-Saxon kingdom of Mercia to be independent and offer its people a whole new holistic society.
4. Grand Duchy of the Lagoan Isles (2005)
The Grand Duchy of the Lagoan Isles is a micronation based in Britain established by school teacher Louis Robert Harold Stephens as a class project.
The claimed territory includes the Baffins Pond in Portsmouth and its three tiny islands. The Grand Duchy 's operations are just limited to the Internet and no physical presence is seen around the pond area.
5. Hajdučka Republika Mijata Tomića (2002)
Hajdučka Republika Mijata Tomića is a micronation established between the mountains of Vran and Čvrsnica, in the middle of the Nature Park Blidinje, western Herzegovina, Bosnia, and Herzegovina.
The founder, Vinko Vukoja Lastvić, was a motel owner who just wanted to solve a power supply connection problem and whenever he asked the surrounding municipalities to solve the problem, he was always rejected since his area was an unclaimed land. The Hajdučka Republika was created and Vukoja's motel became one of the most popular places in western Herzegovina.
6. Forvik (2008)
Covering the island of Forewick Holm as its sole territory, Forvik is a British Crown Dependency as declared by the island's disputed owner, sole occasional occupant, and Cunningsburgh resident, Stuart Hill.
Being declared as a British Crown Dependency gives the island the right to be independently administered but that doesn't mean they're a sovereign state because UK still holds responsible for these islands. Hill accepts Forvik citizenship applications for outsiders and land-ownership that only apply to Shetland Island residents only.
7. Grand Duchy of Flandrensis (2008)
Flandrensis is a Belgian Antarctic micronation located in western Antarctica but its government is located in the Flanders region, Belgium.
Flandrensis was a virtual micronation but later claimed the five offshore islands located in the southwestern part of Antarctica as its territories. These islands are Carney Island, Cherry Island, Maher Island, Pranke Island, and Siple Island.
8. Filettino (2011)
Filettino was originally a town in central Italy before it declared independence from the country. The idea came from the town mayor, Luca Sellari when the town of 550 residents was planned to merge with the neighboring town of Trevi.
Sellari created the town's own currency, Fiorito, with his image printed on the back of the banknotes. The town became popular among tourists and Fioritos are bought as souvenirs.
9. Gay and Lesbian Kingdom of the Coral Sea Islands (2004)
Located northeast of Australia, the Gay and Lesbian Kingdom of the Coral Sea Islands (that was long) was created in response to the Australian government's refusal to recognize same-sex marriages.
On June 14, 2004, the gay and lesbian activists sailed to the territory's largest island Cato and raised their rainbow flag to declare independence from Australia. Gay rights activist Dale Parker Anderson was elected emperor and sovereign of the Gay Kingdom.
10. Copeman Empire (2003)
Henry Michael King Nicholas was unemployed, pressured by his family to make something of himself, and challenged by his friends with a weird dare – build his own empire. By then he declared himself as HM King Nicholas I and he built the Copeman empire in a two-berth Elddis Mistral GTX Caravan.
His small caravan is decorated with velvet curtains, red carpet, silk trim, and a throne room (a chemical toilet). The whole story about Henry and his Copeman Empire can be read through his published book,"King Nicholas and the Copeman Empire".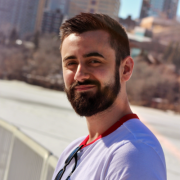 Cameron Dwyer
Cameron is a travel writer, a nomad, a wanderer, a wonderer, a gypsy, homeless. He loves being on the road always on a mission to explore the unexplored destinations.