The Strange and Beautiful Buildings of Ashgabat, Turkmenistan
Conventional travelers would typically recommend mainstream international destinations that are home to popular historical landmarks, monuments, mountains, and cities. While it is true that these destination have achieved fame for their beauty and history, it is always refreshing to deviate from the beaten path and visit a place that may not be as popular, but may be just as magical. Little known destinations offer uncrowded streets and unspoiled beauty. And speaking of unusual destinations, we have a good feeling you may not be completely familiar with our featured city—Ashgabat. Here are the most unusual yet best destinations found in the city of Ashgabat.
1. Ertugrul Gazi Mosque
Ertugrul Gazi Mosque, also called as the Ärtogrul Gazy Mosque, is a mosque built to honor Ertugrul, which is the father of the founder of the Ottoman Empire, Osman I. It features exquisite interior decorations with magnificent stained-glass windows. Its construction resembles another iconic mosque which is the Blue Mosque located in Istanbul, Turkey.
2. Independence Monument
The Independence Monument was built to commemorate the country's independence date, which is October 27, 1991. The primary structure is a concrete tower that is over ninety meters tall, that has an observation terrace at the upper area. The overall area of the Independence Monument is over eighty-thousand square meters, and guests will be welcomed by a cascading pool and statues.
3. Ashgabat's Wedding Palace
Lovers or even singles who are dreaming of getting married are in for a treat upon seeing Ashgabat's Wedding Palace. The Wedding Palace is one of the most iconic architectural establishments in Ashgabat that was built in 2011. The building is actually a building that serves as the city's civil registry, and is a building that has eleven-stories that was designed to appear like an eight-pointed star. It has three wedding halls that can accommodate from five hundred to a thousand guests for that special moment. There are also other shops like ethnic jewelry, beauty salon, and hotel.
4. Oguzkent Hotel
Accommodations vary from neat-looking hostels to amazing hotels decorated with middle-eastern alabaster and marble appointments. Experience the majestic view of the city at night, when lights glitter like opened treasure chests. Experience the posh and luxurious life with Oguzkent Hotel. This five-star hotel built in 2010 is one of the best hotels in central Ashgabat and serves as an important destination for conferences and accommodation for notable political people.
5. The Gypjak Mosque
The Gypjak Mosque is another mosque that can be visited. The mosque opened in 2004 and was built by the late president of Turkmenistan, Saparmurat Niyazov as preparation for his death. Niyazov died in 2006 and was buried in the tomb.
6. The Turkmen State Circus
It is one of the biggest government buildings operated by the country's Ministry of Culture. This unique building is made with mosaic panels and has marble and granite. The state circus won as the gold medalist in the recent festival held in Moscow last 2013.
7. Yyldyz Hotel
Yyldyz Hotel is another luxury hotel in central Ashgabat built in 2013. It showcases a unique teardrop shape structure that has both aesthetic appeal and seismic resistance. With more than a hundred rooms, it boasts a large banquet hall that can accommodate up to a thousand guests, and another panoramic restaurant with about six hundred seats.
8. Turkmen Museum of Fine Arts
For individuals who would like to invoke their inner artist will be pleased to pay a visit to the Turkmen Museum of Fine Arts. It has over six thousand items on display that include sculpture, paintings, and graphics made by Russian, Turkmen, and other foreign artists. It also has an astounding collection of European paintings including English, German, Dutch, Italian, and Flemish art pieces.
9. Bitarap Turkmenistan Avenue
Bitarap Turkmenistan Avenue is one of Ashgabat's primary roads. A stroll in this area will give you a nice view of some of Ashgabat's structures in summary. These include the Oguzkent Hotel, the Ministry of Culture of Turkmenistan, the Dayhanbank, and the Neutrality Monument. This avenue is well-decorated with trees and shrubs, and there are overhead and underground passages along the way. You will be in awe as this avenue have granite-paved sidewalks, tastefully done that even the artistic travelers will appreciate.
10. The Monument of Turkmenistan Constitution
The Monument of Turkmenistan Constitution is the second-tallest building in the entirety of Turkmenistan. Adorned with marble, this 185-meter high tower was built to honor the constitution of the country. It has a museum, library, and a conference room inside. Guests can also go for a quick shop at the building's gift shop.
11. The Turkmenistan Tower
Completed in 2011, the Turkmenistan Tower is currently the country's tallest structure at 211 meters. This eye-catching structure serves as a television and radiocommunication facility, but due to its inspiring look, it has become as famous tourist attraction as well. The main observatory can provide guests an excellent view of Ashgabat, as well as of the foothills of Kopetdag.
12. The Monument of Neutrality
Also known as The Tripod, the Monument of Neutrality was built in 1998 to commemorate the country's official position of neutrality. Its pinnacle is a 12-meter gold-plated statue of the late president Niyazov that is configured to rotate and always face the sun's direction. The structure features a panoramic viewing area that attracts visitors for a nice view of the city.
13. White Wheat Museum
According to various sources, Turkmen lands were renowned for their harvests. The White Wheat Museum was built in 2005 to educate future generations of Turkmenistan's agriculture past.
14. Fountain Shopping Mall
The Fountain Shopping Mall is a shopping center surrounded by pools and fountains. The mall sits on a total area of 43,200 m² and includes 27 synchronized, lighted and fully programmable fountains. Around 7.8 million liters of water circulate from the top of the building down to the pools at its sides.
15. The Alem Cultural and Entertainment Center
The Center was officially opened to the public on May 18, 2012. The Guinness Book of World Records recognizes the Alem Cultural and Entertainment Center as the place that hosts the tallest enclosed Ferris wheel.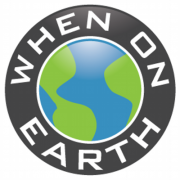 WOE Media
When On Earth Magazine is for people who love travel. We provide informative travel guides, tips, ideas and advice regarding places to see, things to do, what to taste, and much more for world travelers seeking their next dream vacation destination.