Man Powers and Drives School Bus in China
Well, this is certainly something we haven't seen before and seems to be ever so amazing, but dangerous at the same time. The short video clip shows a bus, or should I say buses in China being powered and driven by men. Okay, I think we understand the driving bit as that is normal, but being powered on his legs and not petrol or diesel is the shocking factor! People seated in the bus seem to be enjoying the experience and the driver also seems to be coping well, which means it is someone with experience or this whole scenario has been happening for some time now.
Many cars are going past and acting normal to the situation during the first couple of seconds. However, it is little later cars begin to horn – possible at the bus, maybe telling it to hurry a little? Little do they know it is not powered like their vehicle, but merely on a pair of legs. This is kind of dangerous as the road is busy, but kind of looks awesome at the same time. It surely looks like some hard work as both buses are packed with people who seem to be enjoying the ride.
The drivers are tied to the bus and pulling on two handles; using their feet for the speed. This is a very tiring experience for the drivers and should not be carried out. The busy road is a big risk to both the driver and passengers in the bus, both of who are at major risks of getting hurt or injured. Anything can happen, especially with the driver who could stop to take a breath – causing the vehicle behind to crash into the bus due to the instant stop without any reason. All I can say is a big hat's off to the drivers of the bus who are taking people to their destination on their feet, but this should be stopped immediately.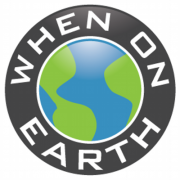 WOE Media
When On Earth Magazine is for people who love travel. We provide informative travel guides, tips, ideas and advice regarding places to see, things to do, what to taste, and much more for world travelers seeking their next dream vacation destination.