Do something odd and make it a point to list down a cemetery as a part of your itinerary. Don't worry, you're not going to do any witchcraft or ghost hunting here (unless you want to), but you'll see and feel how architecture and design, with the help of the famous dead people, can create art.
Here are 10 of the most beautiful cemeteries around the world you should see:
1. Okunoin Cemetery, Mount Koya, Japan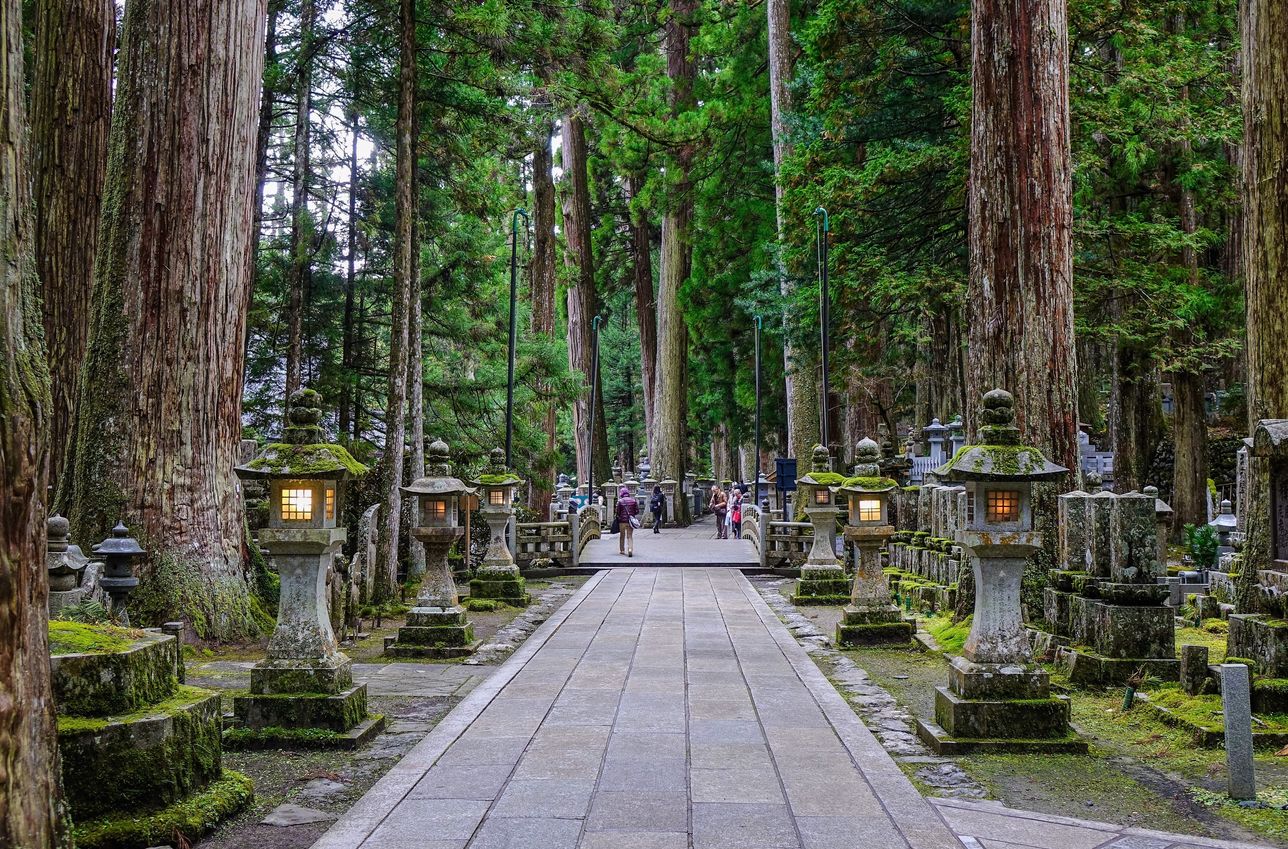 Okunoin Cemetery is the largest cemetery in Japan and the center of the Kouyasan Shingon sect of Buddhism. This cemetery located in the sacred Mount Koya, Wakayama prefecture has an estimated 200,000 graves surrounding a mausoleum dedicated to Kobo Daishi, the founder of the Buddhist sect.
Many people, including monks and feudal lords, wanted to have their tombstones erected here to be close to Kobo Daishi to receive salvation.
Wander around the cemetery observing the different graves marked by stones and small statues.
2. Cemetery at Kathohlische Pfarre Hallstatt, Austria
The cemetery at the Hallstatt Catholic Church isn't just a place for mourning since a picturesque lake of Hallstätter Sea embraces and calms every visitor's heart struck with a pinch of melancholy or nostalgia.
However, the cemetery is too small to accommodate hundreds of bodies, so these resting bodies are removed after 10 years or so to make way for the new ones. There are 1,200 skulls on display at the Beinhaus or Bone House, in St. Michael's Chapel.
3. Waverley Cemetery, Sydney, Australia
It's like a museum on the cliffside. Sydney's Waverley Cemetery boasts the 17-hectares of white marble Victorian and Edwardian monuments with a cliffside that connects you to Bondi Beach.
Moreover, it's the place where you can see the graves of Australia's icons from literary figures to military forces. There are over 80,000 interments took place in Waverley Cemetery since 1877.
4. Mount of Olives Cemetery, Jerusalem, Israel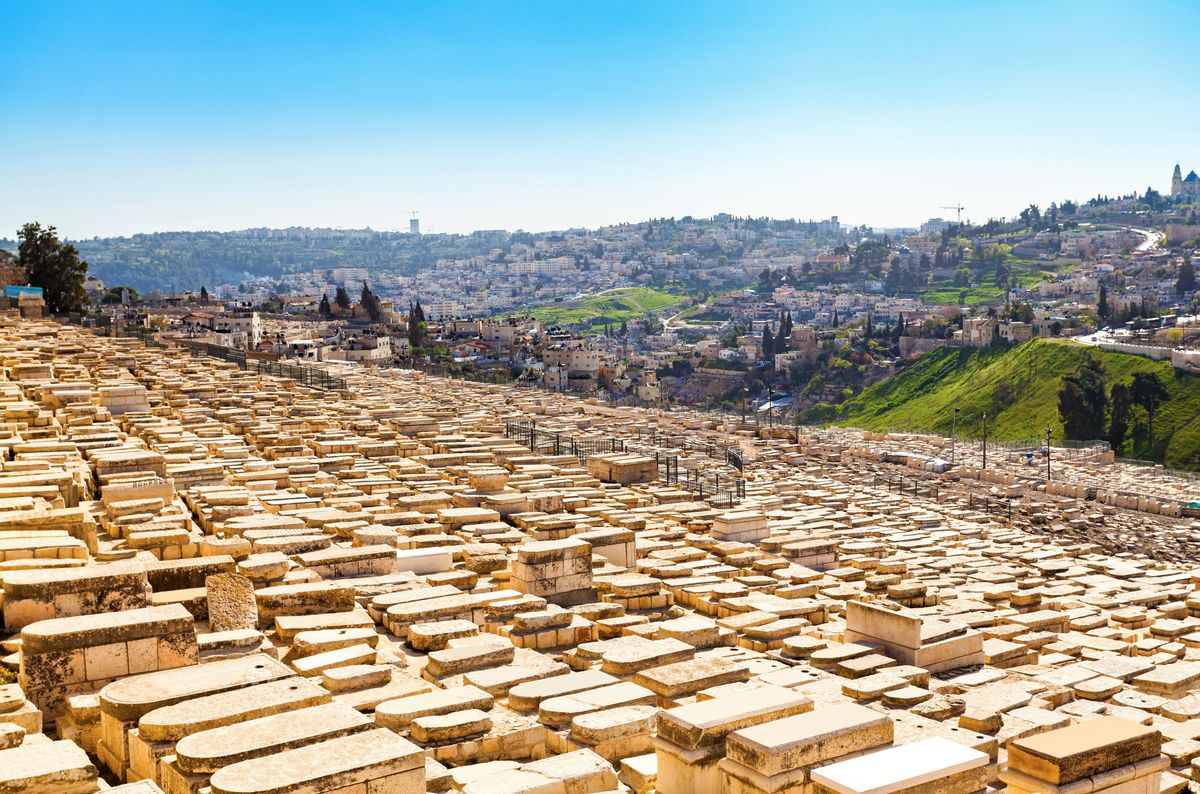 The Jewish Cemetery on the Mount of Olives is the most ancient and most important cemetery in Jerusalem. You'll see more than 100,000 grave markers lining the slope of the cemetery that was believed to have walked down by Jesus on the first Palm Sunday.
Other than being a site tied to religion, the Mount of Olives is also worth the climb to see a panoramic view of the Old City.
5. Cimitirul Vesel, Săpânţa, Romania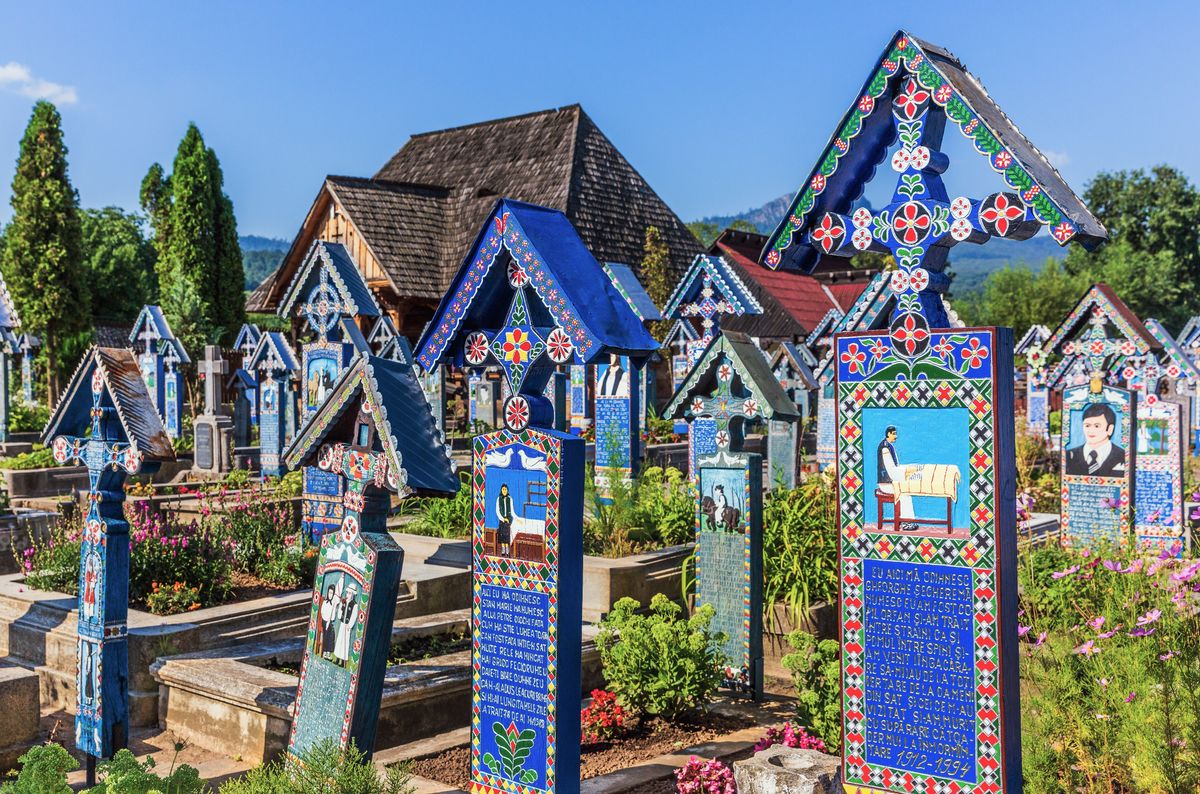 Cimitrul Vesel means "Merry Cemetery" and don't question why someone should be happy on a land full of dead bodies.
The Merry Cemetery has sky-blue graves which are marked with beautifully carved and painted tombstones with the image of the person and a poem depicting what s/he did when s/he was alive. Read more about the Merry Cemetery here.
6. Cementerio de la Recoleta, Buenos Aires, Argentina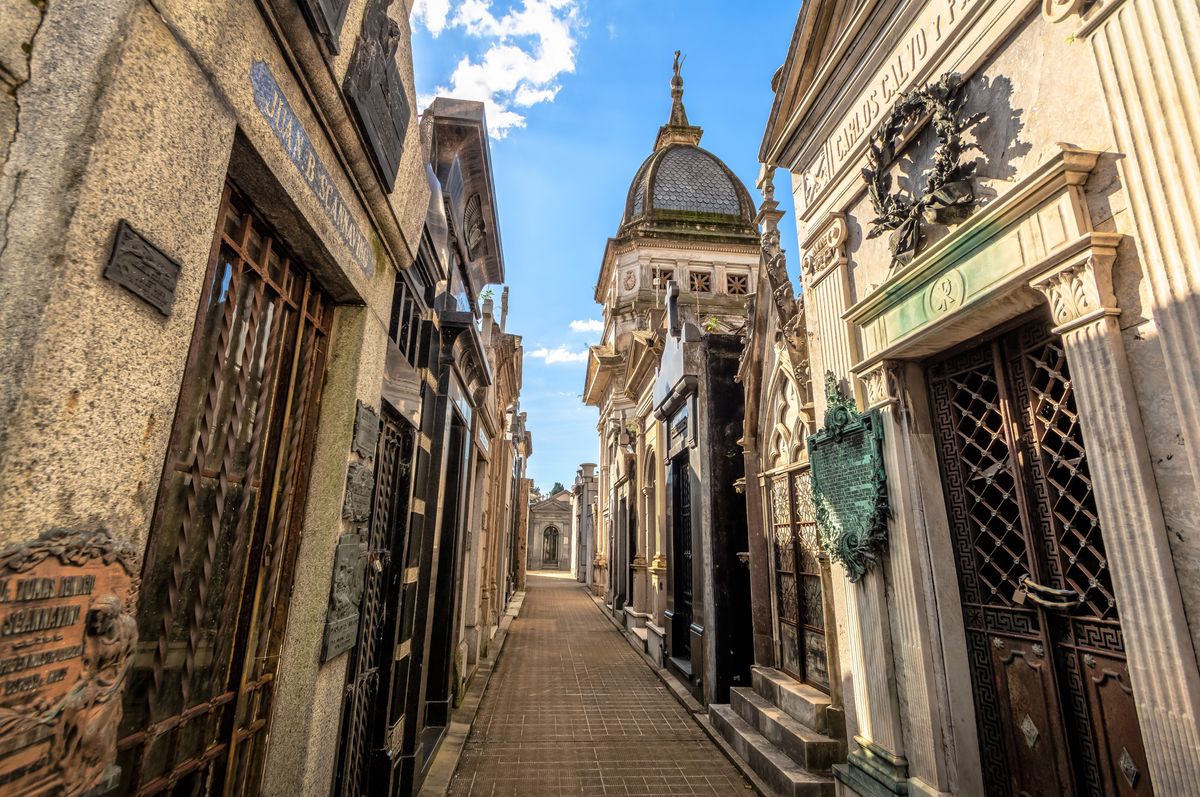 Intricately carved mausoleums stand close to each other making the narrow ways of Cementerio de la Recoleta a maze filled with an amazing variety of architectural styles such as Art Deco, Art Nouveau, Baroque, and Neo-Gothic.
The cemetery is set in 5.5 hectares containing 4691 vaults with 94 of it considered as National Historical Monuments by the Argentine government. It contains the graves of notable people including Eva Peron.
7. Cimitière du Père-Lachaise, Paris, France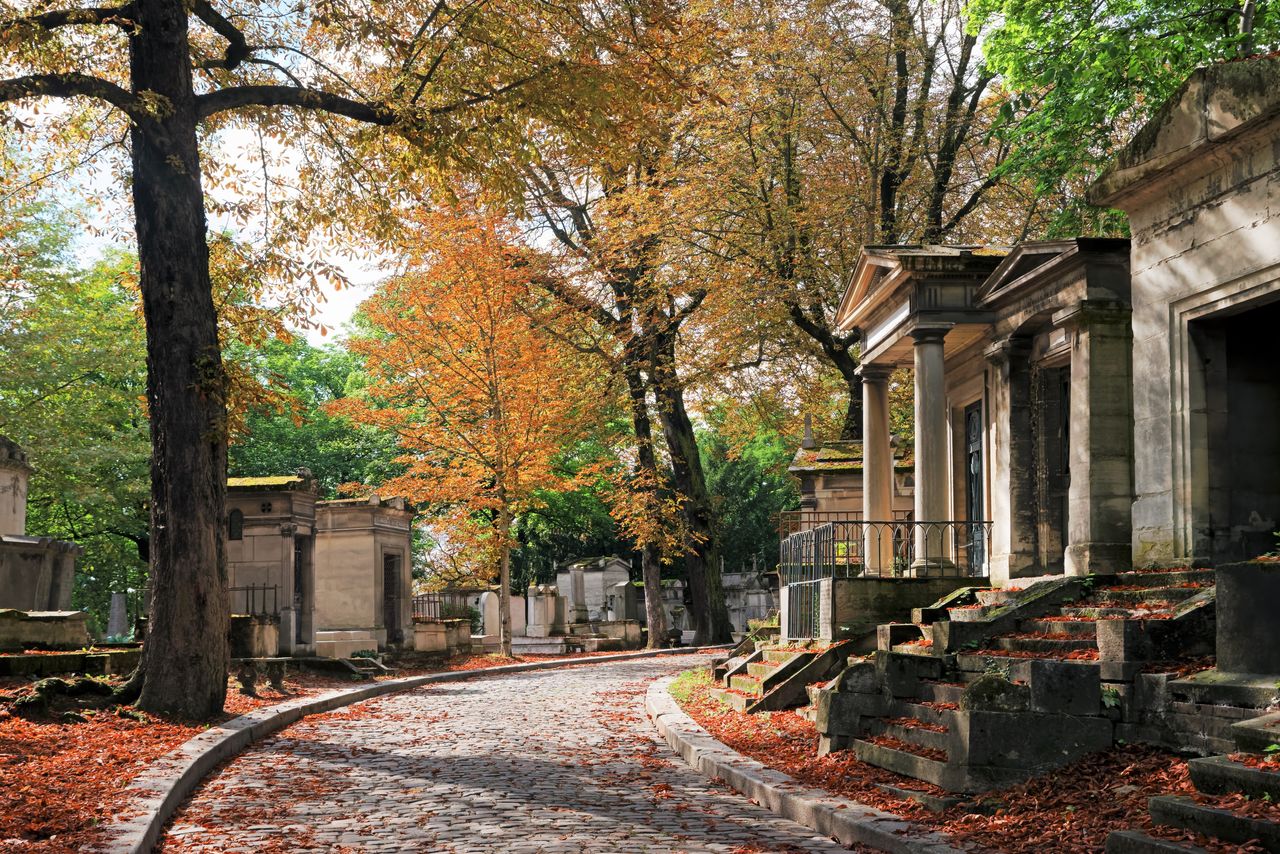 Edith Piaf, Chopin, Balzac, Proust, Pissarro, Jim Morrison and a long list of notable people lie in the largest cemetery in Paris, Père Lachaise Cemetery.
It is also known as the first garden cemetery and the first municipal cemetery. It first opened on 21 May 1804 and had contained 13 graves since people refused to have their graves situated in the site because it was too far and it wasn't blessed by the Church.
Now due to the cemetery's huge popularity, there's a record of almost one million people buried here and only a few plots are available in its waiting list.
8. Highgate Cemetery, London, United Kingdom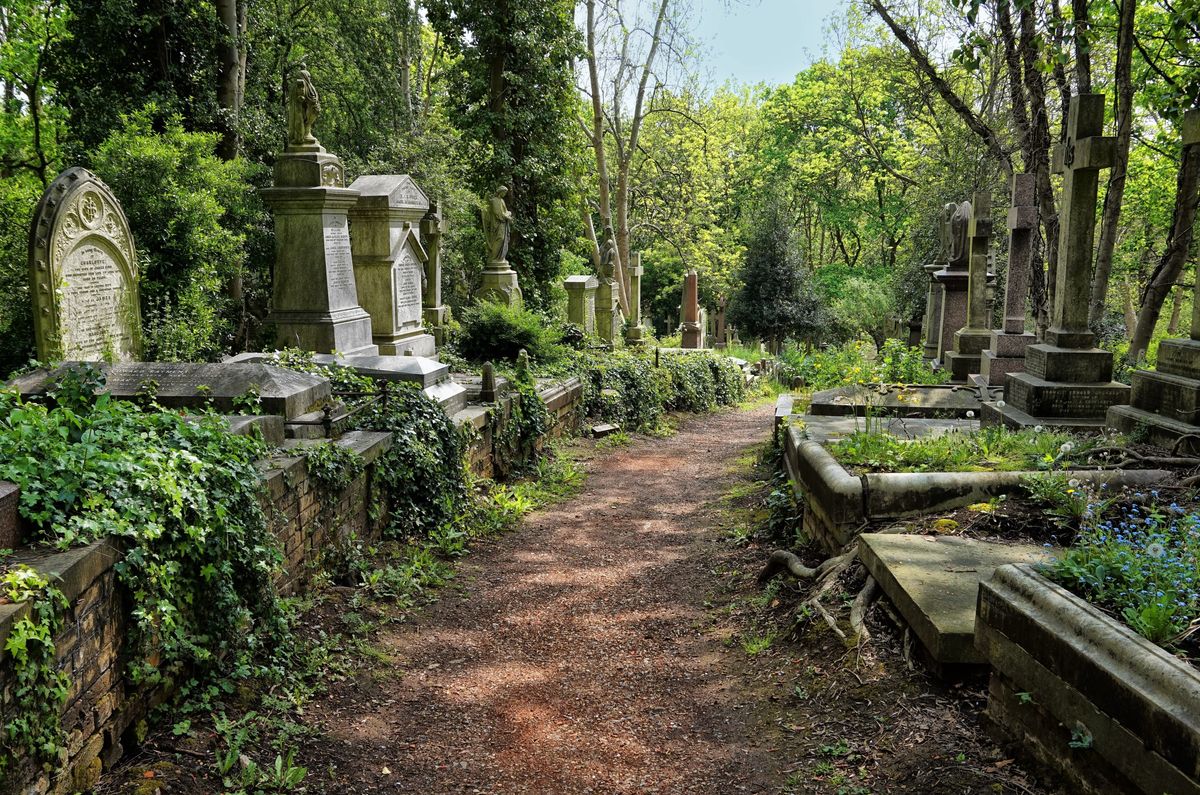 Highgate Cemetery is located on both sides of Swain's Lane in Highgate, N6 next to Waterlow Park. It is famous for the notable people buried here including Karl Marx, George Eliot, and Patrick Caufield.
There are around 53,000 graves in this cemetery and there are approximately 170,000 people buried here. The cemetery is divided into two: the West Cemetery and the East Cemetery; both possessing the wonderful Gothic tombs and buildings.
9. Green-Wood Cemetery, Brooklyn, New York, USA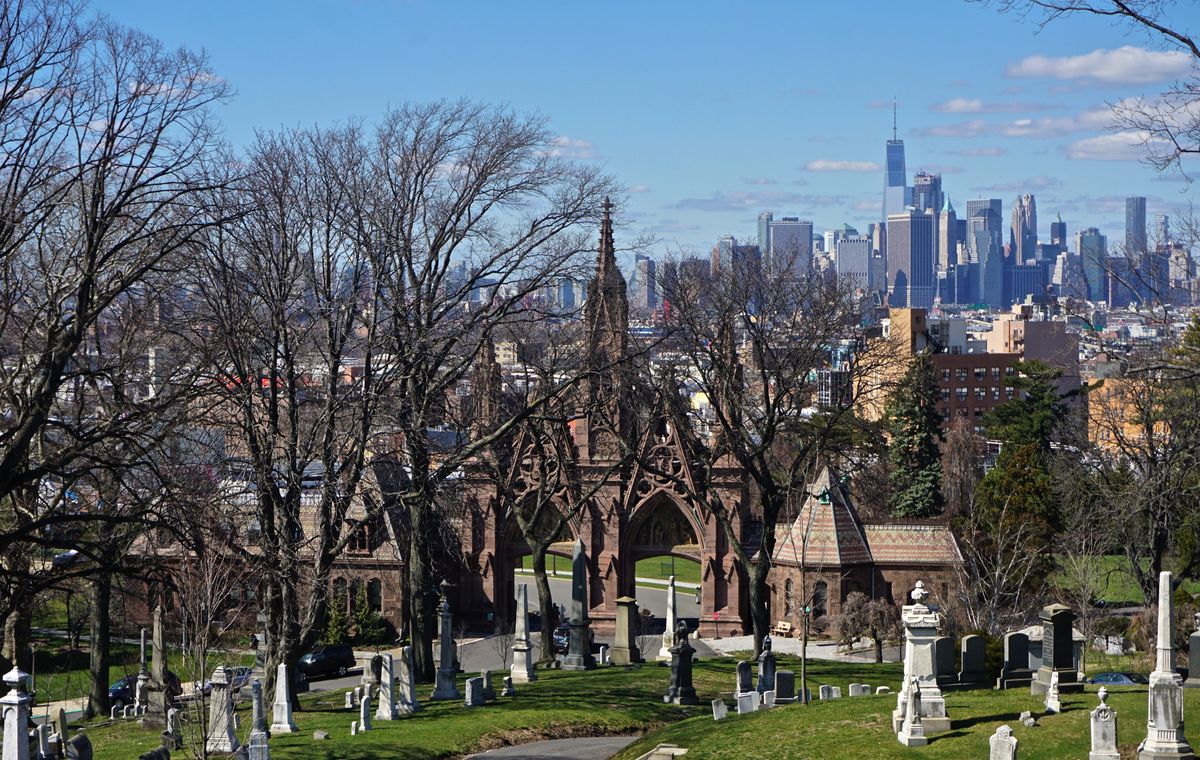 Founded in 1830, Green-Wood Cemetery suddenly became a tourist attraction in the early 1860s. This Cemetery is not only an ordinary cemetery but a National Historic Landmark that has been attracting 500,000 visitors annually.
It was inspired by the naturalistic park-like landscape of Mount Auburn Cemetery in Cambridge, Massachusetts. Some of its wooden shelters were designed in the Gothic Revival style. This is the resting place of some famous people such as Leonard Bernstein and Jean-Michel Basquiat.
10. Skogskyrkogården (Woodland Cemetery), Stockholm, Sweden
Huge mausoleums are absent in Stockholm's Woodland Cemetery. Instead of seeing huge blocks of marble, you'll roam around the beauty of nature with the cemetery's tall pine trees and wildflowers.
It was named as UNESCO World Heritage Site in 1994 for its blend of vegetation and architectural elements.  Skogskyrkogården's design shows its transformation from Nordic classicism to mature functionalism.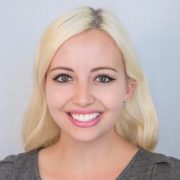 Hailey Brotze
Hailey is a writer by day and anthropologist by night. She was born and raised in California and she holds university degrees in English, French and German, studied Spanish and also holds a university degree in political science and sociology. She has traveled to over 60 countries in a variety of ways, such as backpacking, cruises, camping, luxury, solo, spiritual and adventure travel. Aside from traveling, Hailey's other passions include food, books, music, and dance.