High Trestle Trail Bridge in Ankeny, Iowa
Do you like wacky spirals and unexpected neon illumination? Well you can enjoy some if you head down to the High Trestle Trail Bridge in Ankeny, Iowa.
The High Trestle Trail Bridge is a 13-story (40-meter) high and close to a half-mile (770-meter) long footbridge. It replaced the old bridge that served the Milwaukee railway since the '70s in a major art/revitalization project. Situated on a 25 mile (40 km) trail between Ankeny and Woodward, it's known not for it's length, but for its cool neon-blue illumination.
Then again, the picturesque views and the symbolism in the design might also have something to do with its popularity. The original settlers of the area were the families of immigrants that worked the nearby mines, and to honour that history the bridge decking represents the view through a mine shaft.
Check it out, walk it, or better yet ride a bike along the bridge at night pretending you're in the Tron arena.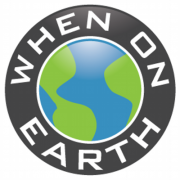 WOE Media
When On Earth Magazine is for people who love travel. We provide informative travel guides, tips, ideas and advice regarding places to see, things to do, what to taste, and much more for world travelers seeking their next dream vacation destination.