Hanging Temple of Hengshan, China
At the foot of the Mountain Heng in Shanxi, China is a rare piece of architecture called the Hanging Temple. It's built against the wall of the canyon 75 meters above the ground, supported only by wooden stilts and minor rock protrusions.  without even a hint of collapse.
The Temple, which covers an area of 152.5 square meters, consists of over 40 evenly distributed halls, cabinets and pavilions that are constructed to keep the structure well-balanced. A main tourist attraction in the Datong area, the Hanging Temple admits thousands of tourists every yearMore than 80 bronze cast statues, iron cast statues, and clay sculptured statues and stone carvings that litter the temple interiors testify to the building's astounding sturdiness. Built in 491, it has survived more than 1400 years, rebuilt and maintained within in the Ming Dynasty (1368-1644) and Qing Dynasty (1644-1911). They say the Temple was built against the canyon wall as protection from rain, snow and sunshine and on its stilts to avoid the floods.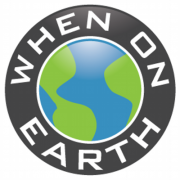 WOE Media
When On Earth Magazine is for people who love travel. We provide informative travel guides, tips, ideas and advice regarding places to see, things to do, what to taste, and much more for world travelers seeking their next dream vacation destination.