Floating Cinema in Thailand
The best place to watch a movie? In paradise, of course.
That's probably what architect Ole Scheeren imagined when he designed this floating movie theatre in the Nai Pi Lae lagoon, Kudu Island, Thailand during the Film on the Rocks Yao Noi Film Festival. Dubbed "Archipelago Cinema", the floating theatre was made out of the rafts of local lobster fishermen which used tires for floaters, creating the effect that the cinema was mere driftwood in the sea.  The screen was placed on a separate platform in front of two towering island rocks at the center of the bay, giving an awe-inspiring experience to guests who watched the films.
In Archipelago Cinema, Scheeren wanted to create a sense of temporality, of beauty in things playfully coming together randomly for a fleeting moment. The theatre stood from March 9 to 13, 2012 and dismantled after the festival, with the rafts given back to the locals. The floating cinema in paradise is expected to be reinstalled for next year's festival, but for now remains only a fond memory.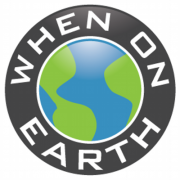 WOE Media
When On Earth Magazine is for people who love travel. We provide informative travel guides, tips, ideas and advice regarding places to see, things to do, what to taste, and much more for world travelers seeking their next dream vacation destination.