The Exotic Mushroom Tunnel Farm in New South Wales, Australia
Where do you think exotic mushrooms are grown; in the forests, in basements, somewhere dark? Well in one place in New South Wales, Australia, the freshest exotic mushrooms are grown in a tunnel. Li Sun Exotic Mushrooms has been long a part of Australia's history.
In the 19th century, the Great Southern Railway ran from Sydney to Picton. Resources such as marble, sandstone, coal, shale, timber and farm produce were carried to Sydney through this railway. People also traveled through here and by the second half of the 19th century, it became an inconvenient mode of transportation for all.
In 1863, the railway extended southwards that included Mittagong, Bowral, Moss Vale and Marulan. By 1869, the railway was completed with a total distance of 224 kilometers, from Sydney to Goulburn.
A tunnel was then needed to be made at the side Mount Gibralter, located between Mittagong and Bowral. It took two years to complete the excavation work and by 1866, the single-line tunnel was completed. When the construction of double lines for the main Sydney to Melbourne line was completed in 1919, the original tunnel was abandoned.
In mid-1942 during the Second World War, the unused tunnel was used as a storage for explosives  by the Royal Australian Air Force. After the war, stocks of explosives were gradually vacated from the tunnel. Later in 1953, all stocks were cleared and the site was closed.
In the post-war years, the abandoned tunnel became one of the first cultivated farms in Australia. In 1987, Dr. Noel Arrold took over the tunnel and created new mushroom varieties for the Australian market. The cool, damp, and the dimly lit environment of the tunnel resembles well the mountainous of China, Japan, and Korea. Now, the tunnel grows exotic mushrooms such as chestnut, enoki, king brown, nameko, oyster, shiitake, shimejii, Swiss brown, and woodear mushrooms.
If you're interested to see the tunnel itself, you can book tours that are conducted 3-4 times a year. Just visit Li Sun Exotic Mushrooms Tunnel's website for more details.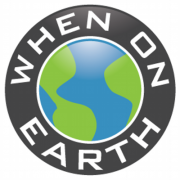 WOE Media
When On Earth Magazine is for people who love travel. We provide informative travel guides, tips, ideas and advice regarding places to see, things to do, what to taste, and much more for world travelers seeking their next dream vacation destination.