Akshardham – The World's Largest Hindu Temple
There are very few places in the world as breathtakingly spectacular as New Delhi, India. The India Gate, Sansad Bhavan, Rashtrapati Bhavan and Connaught Place are just a very few of the long list of places that are must sees in Delhi. But none seem to compare to the beauty and majesty of the great Akshardham Temple.
Located off of a major road, Noida Link Road, as well as a quick stop right off of the New Delhi Metro, this temple is a very easy and rewarding find. Akshardham is the name of the complex, and there are many different things to see and do inside this treasure trove of beautiful Indian architecture.
The complex was opened in 2005 after decades of planning. The original idea for a temple to be built on the banks of the Yumana River for worship was started in 1968. Due to several unforeseen circumstances, as well as some foreseen ones, the project was delayed several times. Finally after complying with environmental requirements, we finally get to see the beautiful Akshardham in all of its glory. It was opened on November 6, 2005 and was built according to the guidelines of ancient Hindu architecture scriptures.
The main building on this large complex is called Akshardham Mandir. It is the tallest building at 141 feet high. Sprawled along its walls are beautiful carvings of flora, fauna, musicians and dancers. The entire building was constructed using sandstone and marble.
Most buildings contain either steel or metal at their core during construction. It is a standard for strength and stability. Interestingly, the Akshardham temple uses absolutely no metal in its construction. According to experts, the structure is just as strong, if not stronger then buildings constructed with a steel frame.
The mandir also contains a plethora of beautifully carved pillars as well as tens of thousands murtis. A murti is a painting, drawing, sculpture or carving depicting a divine spirit. A murti is believed to be a means of communicating with the Brahman in Hinduism.
Among all of its beautiful carvings, artwork and architecture is a great deal of different things to see and do.  The Yajna kund, or musical fountain is a feature on the complex. The fountains are used to display various philosophies among other Hindu beliefs.
There is also the "Sanskruti Vihar", a boat ride. It is designed to take visitors on a tour of models of ancient history. There is also a garden located on the complex. The Garden of India contains a variety of flowers, plants and shrubs.
In 2007, Akshardham was inducted into the Guinness Book of World Records for being the world's largest comprehensive Hindu temple. Although it has been disputed due to claims that there are larger Hindu temples, according to the Guinness Book of World Records, the record still stands.
If you are ever lucky enough to find yourself discovering India and all that it has to offer, Akshardham should be the first place you go. The beautiful sandstone structure, vegetation, art and worship make this destination one of the most breathtaking in the world.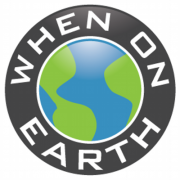 WOE Media
When On Earth Magazine is for people who love travel. We provide informative travel guides, tips, ideas and advice regarding places to see, things to do, what to taste, and much more for world travelers seeking their next dream vacation destination.