33 Then and Now Photos of Hong Kong
A skyline with flashing lights; a beautiful harbor with the busy vessels moving back and forth to different islands; narrow streets with sky high buildings aiming to reach the skies; and of course, the people. Put them all together in one bowl and you'll have Hong Kong.
Hong Kong is known for its numerous skyscrapers. It even beats New York, Tokyo, and Dubai with a total of more than 7,687 high-rise buildings. The noise never subsides, from the shoppers trying to haggle down prices to the continuous construction of new buildings. Hong Kong doesn't stop there, but have you ever wondered how it looked before exploded into a mega city? You sure do, so here's a collection of photos that reveal how Asia's World City looked like decades ago and changed to what it is in the present.
Salisbury Road, Tsim Sha Tsui
Peking Road, Tsim Sha Tsui
Prince Edward Road, Mong Kok
Hankou Road/ Peking Road, Tsim Sha Tsui
Shanghai Street, Jordan
Carnarvon Road-Cameron Road Junction, Tsim Sha Tsui
Nathan Road-Lai Chi Kok Junction
Kimberley Road, Tsim Sha Tsui
Tsim Sha Tsui Waterfront
Sai Yeung Choi Street-Shantung Street Junction, Mong Kok
Nathan Road
Shandong Street-Nathan Road Junction, Mong Kok
Tsim Sha Tsui Pier
1915 Haiphong Road, Tsim Sha Tsui
Des Voeux Road Central-Jubilee Street Junction, Central
Hollywood Road, Sheung Wan
Des Voeux Road West-Hill junction
Des Voeux Road Central
The Old and New Harbor
Causeway Road, Causeway Bay
Luard Road, Wan Chai
Johnston Road, Wan Chai
Hennessy Road
Boardwalk, Kwun Tong
Yue Man Square – Fu Yan Street, Kwun Tong
Ngau Chi Wan
Un Chau Street – Nam Cheong Street, Sham Shui Po
Tung Chau Street – Pei Ho Street, Sham Shui Po
Yen Chow Street, Sham Shui Po
Tsang Tai Uk, Sha Tin
Sha Tin Station
Fanling Station
Tai Po Market Station
For more "Then and Now" photos, visit HK Man's Flickr Page.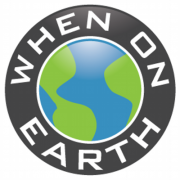 WOE Media
When On Earth Magazine is for people who love travel. We provide informative travel guides, tips, ideas and advice regarding places to see, things to do, what to taste, and much more for world travelers seeking their next dream vacation destination.