30 of the World's Most Charming Mountain Towns
At the mention of charming mountain towns, the picture that comes to the mind of many is the towns in the Alps. But these sorts of towns are in fact also present across the different parts of the world, each with its own peculiar appeal. Perhaps, you are considering a visit to one of these towns soon for a vacation or a place to live in. So here are 30 of the world's most charming mountain towns that could have the home you're dreaming of, in no special order.
1. Notre Dame de Bellecombe, France
This quaint, little French mountain town has basically all the features that are associated to the similar towns in the Alps. It is a great place for vacation in a mountainous terrain, with historic structures against the backdrop of the Alps. The town makes for a perfect location to slay the slopes or just take part in the popular local wine festival.
2. Lucerne, Switzerland
Located in the Swiss Alps, Lucerne is a very charming mountain town featuring cobblestoned streets and buildings erected in medieval style of architecture. Visitors take small cog railway cars up the slope of Mt. Pilatus for hiking at high altitude or for lunch. You will relish the sight of the 14-century Chapel Bridge spanning the Reuss River, which flows through the clean Lake Lucerne.
3. Sandpoint, USA
Located in the Idaho Panhandle about 40 miles away from Canada, Sandpoint is a small, picturesque mountain town highly renowned for its charm among towns in the US. The Selkirk and Cabinet Mountains make for a wonderful backdrop for the town, which plays host to many arts festivals. Lake Pend Oreille and Schweitzer Mountain Ski Resort provides opportunity for boating, fishing, kayaking, skiing and even ice hockey.
4. Olden, Norway
This is a small, unique and tranquil mountain town of just about 500 residents. You will definitely like the views of this place, which sits on one of the longest and most popular fjords in Norway, with its glacial lakes, waterfalls and spectacular mountains. The nearness of Olden to the impressive Jostedalsbreen Natural Park has made the town one of the popular stops for Norwegian cruises.
5. Bled, Slovenia
This town in the Julien Alps has the feel of legends to it. Located close to the border of Slovenia with Austria, Bled is in the proximity of the Triglav National Park with a waterfall and mountains popular for the mythical golden-horned chamois, the Zlatorog, which legends say had lived in the area. Attractions of this alpine town also include the historic Bled Castle at the top of the cliff, a famous church steeple, a wishing bell and a bright green lake. You may also want to check out Bled's signature cream cake, the kremna rezina.
6. Aspen, USA
Nestled in-between the Rockies, Aspen is a small, picturesque mountain town which is unique in many regards from many other destinations in Colorado. It is a great place to visit at any time of the year with an impressive variety of exciting activities, hotels, spas and restaurants. The town is the perfect destination for top-notch skiing experience in winter.
7. Chamonix, France
A small town with an idyllic feel, Chamonix is positioned at the base of Europe's highest mountain, Mont Blanc. This unique and charming mountain town has many history buildings and boasts of spectacular views all around. It is a top destination when talking about mountain vacations in the Alps all year round.
8. Arties, Spain
This is arguably the best of the sleepy, mountainous villages in Spain's Valle de Aran region. Arties, comprising just about 500 inhabitants, is popularly known for its narrow cobblestoned streets, snowy summits and green meadows. The air is of the highest quality here and the town's stone structures will catch your eyes with their fanciful colors. Summer and winter are great periods for a visit, each period with its own special attraction.
9. Grindelwald, Switzerland
This small mountain town in the Bernese Alps has become particularly more popular in recent times than it was several decades ago. More and more people have discovered the charm of Grindewald with its superior quality ski slopes, waterfalls and glacial lakes. This destination isn't just ideal for only ski lovers, but also for hikers. The town's proximity to Jungfrau Mountain has also helped to boost its appeal to tourists.
10. Taos, USA
A location in New Mexico, Taos is a marked departure from your regular mountain town being positioned in a high desert valley. The appeal of the town includes the majestic Sangre de Cristo Range, adobe structures and the Native Pueblo village here. The bed and breakfasts in the town are classic Southwest haciendas decorated with local arts and historic artifacts.
11. Hallstatt, Austria
The ambiance round this little village situated by a lake is simply stunning! Significant effort has gone into ensuring the charm of Hallstatt is preserved, with the use of cars banned in the town center. The result is one of the most beautiful and natural places in Europe and anywhere in the world. Visitors will relish views of swans on Lake Hallstatt, quaint wooden homes and balconies covered with colorful flowers.
12. Bryson City, USA
This small mountainside town in North Carolina was the location for the Great Smoky Mountains Railroad. The railroad runs through green meadows, coves and ancient forests, with a museum present at the old depot. The town is situated close to the picturesque Blue Ridge Parkway and leads to the Great Smoky Mountains National Park.
13. Canazei, Italy
Nestled in the magnificent Val di Fassa in Trentino, Canazei is a little, world-class skiing destination. The village boasts about 25 miles of quality slopes, which makes it a major draw to ski lovers. Canazei also boasts of haute traditional cuisine and highly comfortable mountain huts. It is situated in the proximity of Marmolada, the highest snowy peak in the Dolomites range in northern Italy.
14. Torla, Spain
The village of Torla in the province of Aragon offers the perfect destination when looking for a uniquely natural setting with its glacial valleys, mountains, beautiful waterfalls and pine forests. It forms a section of the Ordesa-Vinamala Biosphere Reserve and has Ordesa y Monte Perdido Natural Park in its vicinity for visitors to explore. The town features narrow streets and stone houses built in Pyrenean style of architecture.
15. Coeur d'Alene, USA
This town in Idaho is sited in the proximity of mountains covered in greenery and an alpine lake with more than 120 miles of shoreline. The charming Coeur d'Alene features sidewalks with cobblestones, green awnings and gas-lit street lamps along with a variety of pleasant galleries, shops and restaurants. Visitors come here for different reasons, which include kayaking, rock climbing, hiking, canoeing and even picnicking on ledges which overlook the lake.
16. Whistler, Canada
Sitting at the base of Whistler and Blackcomb mountains in British Columbia, this resort town is a very beautiful destination with lovely boutique shops, restaurants and pubs. It is a wonderful place for world-class skiing, with the 2010 Winter Olympics helping to boost its appeal in this regard. Whistler also offers a great location for people-watching with visitors coming here from different parts of the world.
17. Davos, Switzerland
This amazing mountain town is a great place to visit at any time of the year. Visitors to Davos can enjoy easy access to the mountains with spectacular views of the surrounding areas through a wide variety of lifts and cable cars. Most of these lifts and cable cars operate both in winter and summer. There are equally a number of interesting activities that you can partake in while in this quaint Swiss town.
18. St. Moritz, Switzerland
It is impossible to skip a mention of this resort town situated in the Upper Engadin in Swiss canton of Graubünden. St. Moritz is noted for its elegant nature and lively ambiance, with the sun in this area up for an average of about 322 days in a year! The 12th-century Leaning Tower is a must-see in the town. Other attractions include Chesa Vegla, Chesa Futura and the Segantini Museum, which is listed as a national heritage site in Switzerland.
19. Ouray, USA
Known as the "Switzerland of America", the historic town of Ouray is located in Colorado, encapsulated in the San Juan Mountains. It boasts charming Victorian-styled buildings, whose attractiveness is further accentuated when covered in snow. Therapeutic hot springs and an ice-climbing park are among the major attractions in Ouray.
20. San Martino di Castrozza, Italy
This little, unique place has for a long time served as a pleasant place of rest for people passing across the Alps. It is more than just that these days. San Martino di Castrozza is now frequented by those looking for a place to hike and ski as well as those desiring to have a taste of local cuisine and wines.
21. Wanaka, New Zealand
Situated on South Island, Wanaka is poised on a basin carved out of Southern Alps in Mt. Aspiring National Park by glaciers. The town, which sits on Lake Wanaka, boasts of numerous vineyards on hillsides and several uninhabited sanctuaries for the flightless bird, Buff Weka. The town is no less appealing in terms of its dining and other attractions.
22. Shirakawa-go, Japan
The charming Japanese village of Shirakawa-go makes for a perfect destination to go when looking to enjoy quietude and fresh mountain air. Built at the base of Mount Hakusan, the village boasts a unique collection of Gassho-style homes with thatched roofs, most of which were built in the 19th century and have been well-preserved till this day. This World Heritage location is particularly more appealing in winter.
23. Berkeley Springs, USA
Also known as Bath, Berkeley Springs is noted for its plethora of public bathhouses, thanks to the warm and natural mineral springs that flow generously through the town. This charming place also features historic buildings and you can enjoy a therapeutic dip in Berkeley Springs State Park's heated Roman baths.
24. Le Chinaillon, France
The little town of Le Chinaillon is located in high altitude in eastern France's Rhone-Alpes region. It is a popular destination due to its nearness to the famous Mont Blanc and is the major ski outpost in Le Grand-Bornand area. The meadows in the town come to life with wildflowers and grazing castle when winter is over.
25. Ifrane, Morocco
You will be surprised when you visit this Moroccan resort town sited in the Atlas Mountains because of its striking similarity to European mountain towns. It is even described as "Little Switzerland" by some people with its Continental-style architecture and sloped alpine roofs. Visitors can even engage in downhill skiing nearby.
26. Cavalese, Italy
Yet another pleasant little village nestled among the snowy peaks of Trentino, Cavalese is arguably a very delightful destination. It is set high in the Dolomites and straddled between the spectacular Monte Corne and Paneveggio-Pale di San Martino Natural Parks. Its natural appeal is further heightened by its closeness to Latemar, which is described as one of the most beautiful natural places on earth by UNESCO.
27. Fernie, Canada
The name of this town probably does not ring a bell. But Fernie in British Columbia actually has what many other mountain towns have. You can enjoy spectacular views of surrounding, snowy mountain peaks from the town center. You can also have fun by skiing down the 2,500-acre Fernie Alpine Resort. The relative obscurity of this town translates into budget hotel rates and trails that are less-crowded.
28. Stowe, USA
This is a picturesque New England village in the state of Vermont. Nestled in a valley between peaks of the Green Mountains, Stowe is a popular destination among those looking to negotiate the rugged Stowe Mountain Resort's double-black diamond trails. The town features some historic buildings and offers opportunity to enjoy a feel of the surrounding countryside. The natural beauty of Stowe becomes more pronounced in fall, with colorful hues enveloping the Green Mountains.
29. Girdwood, USA
Originally called the Glacier City, Girdwood is positioned next to the largest ski resort in Alaska. The original name of the area was derived from the massive snowy peaks that it has on all sides. Girdwood is an ideal location for ice climbing and glacier hiking. Visitors will also find here Crow Creek Mine, one of the most productive gold mines in Alaska. In the vicinity of this location is Kenai Fjords National Park, where you can watch humpback whales frolicking away.
30. Crans-Montana, Switzerland
This alpine destination is a combination of two towns, Crans and Montana, which can be accessed via a funicular ride. The walk through the town center is enjoyable and you can experience spectacular views of the mountains. The ski resort offers skiing at different altitudes – of up to as high as about 10,000 feet.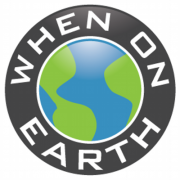 WOE Media
When On Earth Magazine is for people who love travel. We provide informative travel guides, tips, ideas and advice regarding places to see, things to do, what to taste, and much more for world travelers seeking their next dream vacation destination.