24 Amazing Travel Resource Websites For Offbeat Travelers
1. Rome2rio
Find out how to get anywhere in the globe in just one website
Rome2rio can give you detailed transport information from anywhere in the world. If you're used to going to different sites to figure out how to go from one country, city, town, or street to another, well, now you don't have to. Useful for traveling to major cities (smaller and more obscure towns would have to wait for accurate data).
2. CosmopolitHome
Nightswap like a pro
Nightswapping is a new home exchange system that lets you earn "capitaL" to stay at other people's houses for free. The more you let other people sleep in your house, the more you can avail free stays in other people's houses all over the world. To get a better idea, you can watch the video on their site.
3. Vayable
Discover unique experiences offered by local insiders
Explore abandoned places, sample the best street food, take photowalks, or discover street art with a knowledgeable local guide. Head to Vayableif you want to go on authentic city tours or if you want to host a tour of your hometown yourself.
4. Nerdy Day Trips
Tours for nerds, by nerds
Visit military forts, sports arenas, curiosity shops, or geological wonders that would awaken the geek out of you. Use their interactive map to navigate across nations and create the perfect nerdy day trip. The site needs contributors to fill the maps with more nerdy destinations, so sign up if you got some in mind.
5. Atlas Obscura
A crowd-sourced collection of the world's most wondrous and curious places
Atlas Obscura is the internet's biggest collection of weird and wonderful places around the world. Some favorites are the cup noodle museums in Japan, a tree stuck with thousands of coins in England, a cursed island full of black pebbles in Thailand, or the hottest place in the planet in Ethiopia. Obscura Society also organizes meet-ups all over the world to visit these places.
6. Sleeping in Airports
A definitive guide to sleeping in airports
There's at least one point in the life a traveler that he just has to sleep in an airport. This quirky site gives reviews of airports around the world, which ones provide the best "accommodation" and how to survive in those that don't. Firsthand tips and tricks from expert airport sleepers.
7. myTab
Fundraise cash for your dream trips
Money has always been a problem for budding travelers, but not for those who use myTab. Use myTab to look for friends, family, or generous strangers who'd want to subsidize your dream trip. If you have little luck with that, myTab helps you budget and  save cash for your travels through regular reminders. Once you get funds for your trip, myTab negotiates for deals on airlines, hotels, cruises, and more, exclusively for you.
8. Joobili
Discover festivals and events around the world
If you have a travel date in mind but not sure where to go, head to Joobili and discover events, festivals, and shows around the world happening on your selected dates.  Joobili is also handy for being in the know what's happening in town wherever you are.
9. Unusual Hotels of the World
Book your stay at the quirkiest hotels on Earth
Why not make the most of your adventure by spending the night at your destination's strangest, quirkiest hotels. From underground cave suites to chocolate boutique hotels to city trams and railway car B&Bs to spherical treehouses in the wild, this site has accumulated 32o (as of the moment) of the strangest accommodations in the world, and you can book them all in just one spot.
10. Most Unusual Restaurants in the World
The ultimate guide to the world's most unusual dining experiences
If you're going to stay in a weird hotel, why not try a weird restaurant too? This site collected 7+ years' worth of information on the world's most unusual restaurants from all imaginable sources. Find out where to dine in complete darkness (25 restaurants as of today), be served by singing, dancing, acrobatic, verbally abusive, or robotic waiters, eat sushi served on a woman's body, or feast on large pieces of meat with your bare hands like a barbarian. Also, find weird restaurants near you via their interactive map.
11. Expatistan
Compare costs of living between places
Before heading off to a foreign city, check Expatistanif you got ample funds to survive during your stay. You can compare food costs, transportation, housing, and entertainment between two cities. Useful for expats working in other countries and travelers who wish to stay in foreign cities long term.
12. VisaMapper
Find out VISA requirements for all countries
Check visa requirements of every nationality for every country in the world in just one website.  VisaMapper was created by Redditor  udit99 to ease the pain of travelers researching numerous webpages for visa requirements. It's a new website, so just to be sure you can double-check the info from your country's official embassy via Embassy-Finder.
13. HelpX
Help out locals in exchange for food and accommodations
Willing to work for free food and housing? Find exotic volunteer opportunities at HelpX, an online listing of organic farms, backpacker hostels, sailing yachts, ranches, etc that can accommodate travelers in exchange for their services. To contact the hosts directly, you need to register for a Premier membership, which costs 20 Euros for 2 years.
14. Idealist.org
Make a difference, volunteer as you travel
Join a cause and leave a mark. Idealist.org connects you to non-profit organizations and institutions who need an extra pair of eager hands to serve communities, alleviate environmental crises, or fight for what's right and true. Idealist.org also lists jobs and internship opportunities.
15. WorkAway
Get paid or volunteer jobs while traveling
A more extensive listing for travel job offers is in WorkAway. Useful for long-term backpackers constantly looking for means to earn a living and sustain their travels. WorkAway also features an in-site social network so you can meet up with other WorkAwayers to share ideas. Registration for a single traveler costs 22 Euros for 2 years access to host contact information.
16. Adioso
Search for flights like a human being
Search for the best vacations as humanly as possible. Adioso offers ultra-flexible flight searches according to your interests, needs, and budget. Adioso understands that we aren't always sure what dates we want to travel, which particular part of a country we want to go, or that sometimes we just want to go surfing, skiing, or skydiving. If you're planning a trip and are not sure about a lot of things, Adioso is the way to go.
17. Planely
Make friends with people on your plane
We like that pleasant feeling when we find a friend at the airport waiting for the same flight. Why not go the extra mile and make friends with your flight-mates before your plane ride? Planely digs up the social media profiles of the people you'll be sharing the plane with so you could connect with them prior to  your flight. Sounds fun?
18. LastMinute.com
Book cheap last minute travel deals
Get secret deals from the industry's top service providers. Snag luxury cruises, business class seats, boutique hotel nights, and top-notch city tours are all yours at unbelievably discounted prices right here.
19. FlightAware
Offers live tracking maps, flight status, and airline delays
Track your flight (or a friend's) real-time via Flightaware. This site also offers aviation news, airline and airport information, weather reports, and other valuable information relevant to flying.
20. Vacations2Go
Avail last minute deals on cruises
Vacations To Go specializes in last minute cruises, cruises, cruise lines and cruise vacations. It connects with the best cruise companies for exclusive last minute deals on a wide selection of luxury cruises.
21. RoadSharing
Get free car rides anywhere
Need a lift? Check out Roadsharing to find out any carpools going your direction. A great way to save up on travel costs, reduce pollution, and meet new friends. Think Jack Kerouac's On The Road for the 21st century.
22. Floatplan
Sail across the globe as a volunteer crew member
Volunteer as a yachtsman and sail the wide oceans for free. If you like boats and fish and the heavy smell of the salty sea, you'd like Floatplan too.
23. DogFriendly
Travel guides for pet owners
Taking your pooch on your RTW? It's not always a great idea, but as long as you got a guide like DogFriendly, you'll be all right. DogFriendly lists pet-friendly destinations worldwide as well as tips for traveling with your pet.
24. Stolen Camera Finder
Amazing tool for tracking lost cameras
If you somehow lost a digital camera while traveling, you can actually track it using this tool. Stolen Camera Finder uses the serial number of your camera embedded on your photos and searches the internet for photos with the same SN, and from there you can find out where the pictures were taken. It's a genius app everyone should know about (except camera thieves).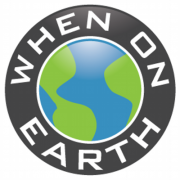 WOE Media
When On Earth Magazine is for people who love travel. We provide informative travel guides, tips, ideas and advice regarding places to see, things to do, what to taste, and much more for world travelers seeking their next dream vacation destination.