14 Best Cities to See Cherry Blossoms Outside of Japan
When we say "cherry blossoms", we think about Japan in an instant. It'll be lovely to take part in the cherry blossom viewing in Japan, also known as 'Hanami'. But isn't there a place nearer to home than Japan? Absolutely, there is. Of course the real hanami, having a picnic party under the shade of fully-bloomed cherry blossom trees, is totally different compared to other places, but if chances to visit Japan are slim this year, here's a list of towns that can be perfect substitutes to visit without breaking the bank or flying miles away.
1. Washington DC, USA
In 1912, the Japanese sent 3,020 cherry trees to the United States as a gift of friendship. The first two cherry trees were planted on the northern bank of the Tidal Basin and the remainder around the Tidal Basin and East Potomac Park. Now, you can view these trees in full bloom in the places they were first planted and also on the grounds of the Washington Monument during the National Cherry Blossom Festival which usually runs from March to April .
2. Stockholm, Sweden
In 1998, 63 Japanese cherry trees were planted around one of the city's popular parks, Kungsträdgården or the King's Garden. Kungsträdgården is now home of Stockholm's biggest display of cherry blossoms which blooms in mid- to late- April. Don't forget to sit down on the grass and enjoy the sunshine hitting the soft pink blossoms.
3. Shanghai, China
From mid March to early April, you can witness the amazing shades of pink in Shanghai's six spots that celebrate the Cherry Blossom Festival. One of the best parks to visit is Gucun Forest Park with a total area of more than 500,000 square meters, decorated by at least 10 different varieties of cherry trees. Other than Gucun Forest Park which anticipates crowds of around 12,000 people annually, you can also visit Shanghai Botanical Gardens, Chenshan Botanical Gardens, Lu Xun Park, Zhongshan Park, and Tongji University.
4. Seoul, South Korea
Thousands of king cherry trees extravagantly welcome you during early April in Seoul's "Manhattan", Yeouido Island. The best place to see the flowering cherry trees in Yeouido Island is right along Yeouiseo-ro Street behind the National Assembly building. Every Yeouido Spring Flowers Festival in Seoul, roads are closed to car traffic, making way to over four million visitors, parades, art exhibits, and street performances. Besides the cherry trees acting as the main stars of the event, over 90,000 plants representing 13 different flower species color the island for the annual festival.
5. London, United Kingdom
London also has great spots to fulfill your cherry blossom viewing dreams. Moreover, it boasts the top five spots where you can identify the different varieties of Japanese cherry trees. The places you can visit are the Kew Gardens with the most blossoms in London, Regent's Park, Kensington Gardens, St. James's Park, and Greenwich Park. The cherry blossom season in London usually runs from mid-March to mid-April.
6. Macon, Georgia, USA
10 days of events, concerts, exhibits, arts and crafts, and hot air balloons liven up the city of Macon in central Georgia while being surrounded by more than 300,000 Yoshino cherry trees. The average peak bloom of Macon's cherry trees is usually on the third week of March with high concentrations found near the neighborhoods surrounding Wesleyan College.
7. San Francisco, California, USA
California celebrates the Northern California Cherry Blossom Festival in Sutter Street that's said to be the second largest festival outside of Washington D.C. to celebrate the blooming of cherry blossoms. Hundreds of participants and performers from Japan and California come together to display the Japanese culture through dancing, singing, martial arts demonstrations, and food. Besides Sutter St., you can also see cherry blossoms in San Jose Heritage Rose Garden and Golden Gate State Park. Cherry blossoms can be viewed in San Francisco every April.
8. Brooklyn, New York, USA
Visit Brooklyn Botanic Garden where you can walk around the Cherry Esplanade and Cherry Walk. The cherry trees typically bloom at the end of April and are a prelude to the Garden's annual cherry blossom festival, Sakura Matsuri. During the festival, performances like taiko drumming, cosplay, tea ceremonies, and kabuki dance are shown to celebrate traditional and contemporary Japanese culture. Together with the two allées of Prunus 'Kanzan' cherry trees in the garden, two allées of scarlet oak trees are planted in remembrance of the events of September 11, 2001.
9. Vancouver, British Columbia, Canada
40,000 cherry trees color the city of Vancouver with white and pink, and you can watch their swaying beauty in the city's many parks and gardens. There's Queen Elizabeth Park featuring several varieties of cherry trees. You can also see rows of blossoming trees near the rose garden and the Japanese Canadian War Memorial in Stanley Park. For other parks, you can visit VanDusen Botanical Garden, Nitobe Memorial Garden, and around Vancouver's Kitsilano neighborhood.
10. Curitiba, Brazil
Due to the immigration of Japanese people in Brazil 100 years ago that lasted for a few decades, cherry trees were also brought to the cities of Brazil. One of these cities is Curitiba in Brazil's southern region where the cherry blossom period starts during the winter season, particularly in the month of July. Places you can walk around in Curitiba to see the gorgeous pink flowers include: Praça do Japão, Jardim Botânico, Parque Tanguá, Anita Garibaldi Street, Iguaçu Street and Pasteur Street.
11. Cowra, New South Wales, Australia
Cowra in New South Wales has the twelve acre Cowra Japanese Garden that's designed by world renowned architect Ken Nakajima. This Japanese Garden is a replica of the first Japanese landscape garden built in Tokyo and is also the largest Japanese garden in the Southern Hemisphere. Cherry blossoms can be viewed during late September to early October. Alongside with the blossoms, the garden features rocky hillside, hedges, waterfalls, streams, two lakes, traditional Edo cottage, open air tea house, and a bonsai house.
12. Bonn, Germany
In Bonn, the street named Heerstrasse is now also known as Cherry Blossom Avenue after photos of this street with the sky covered with pink blooming trees went viral. These trees bloom every spring during April taking over the streets with their explosions of pink petals everywhere. Also visit Breitestrasse for more photo perfect shots.
13. Amstelveen, the Netherlands
Amstelveen is home to a community of about 1,700 Japanese expats and whenever spring comes, the 400 cherry trees standing in Kersenbloesempark go in full bloom. You can have a picnic under the shades of cherry trees from the end of March to late April.
14. Istanbul, Turkey
The Japanese cherry trees in Istanbul represent the 587 Ottoman Turkish sailors of the frigate Ertogrul which ran into a typhoon and caused the loss of its people. The spectacular cherry blossoms can be viewed at Istanbul's Nezahat Gökyiğit Botanic Garden together with other natural fauna.
There are more places that you can visit to see the pink and white flowers of these fascinating cherry trees. Besides Shanghai, you can go to  Wuhan, Nan'an, and Lushun whenever you're in China. If not in Bonn, Germany's Hamburg and Berlin do also have bursts of pink and each celebrating the spring season.
But then if you really want to visit the original home of cherry blossoms, you can visit Japan's best cities including Tokyo, Osaka, Kyoto, and Matsumae in Hokkaido from the last week of March to the first two weeks of April.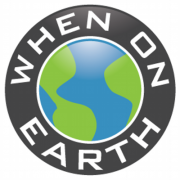 WOE Media
When On Earth Magazine is for people who love travel. We provide informative travel guides, tips, ideas and advice regarding places to see, things to do, what to taste, and much more for world travelers seeking their next dream vacation destination.