10 Stupid Travel Mistakes You Should Never Ever Make
Stupid things happen everywhere even when we travel. However, some people's actions go out-of-this-world, and can sometimes make you hate the entire human race. Read on to know the travel mistakes you shouldn't do plus examples to prevent yourself from looking dumb — or dumber — unless you want to be the next internet sensation.
1. Tweet a threat to an airline
A 14-year-old Dutch girl was arrested after tweeting something that was supposed to be a joke to American Airlines. The tweet was taken seriously and was considered a terror threat and thus, the girl was charged with "posting a false or alarming announcement" in Rotterdam.
2. Push an ancient boulder
And you can laugh after doing that till you realize you're being charged with a third-degree felony; just like what happened to Glenn Taylor, the one who knocked that boulder at Utah's Goblin Valley, and David Hall, the cameraman. However, their reason for pushing the boulder was to prevent the unstable rock from falling over a passerby. For the deputy director of the park, no boulders have toppled before and now that a part of the natural wonder is destroyed, their excuse was considered invalid.
3. Vandalize a stone sculpture
A 3,500-year relic in an ancient Egyptian temple was left with a "Ding Jinhao was here" in Chinese. It caused Chinese netizens to go on a rage and even track down Ding's account after an embarrassed Chinese photographer posted the evidence online.
There's also another case wherein UN Peacekeepers spray-painted their names on the wall of a rock shelter which is an important archaeological site in Lajuad, Western Sahara.
4. Go naked at Machu Picchu
Macchu Picchu, for some unknown reason, is turning into a favorite photo background for tourists who want to get naked. Other than the couple in the video, other incidents include from American, Canadian, and Australian tourists to an Israeli man of "My Naked Trip" who's pretty much used to this stunt. Peruvian officials aren't pleased with this and consider this deed disrespectful. As a result, increased surveillance was made to prevent this "naked tourism".
5. Climb the pyramid to take a good photo
Vadim Makhorov's ultimate dream was to see the Pyramids of Giza in Egypt and so it happened. With too much excitement, he and his friends decided to go up one to take a panoramic shot of the amazing view so off they climbed while the guards didn't notice them. He later apologized for the ascension, explaining that he was just following a dream.
6. Bring guns in your carry-on bag
Uhh… there's a better and safer way to transport your weapons than packing them in your carry-on bag. In the USA, the TSA confiscated 1,813 guns at the airport last year, and Hartsfield-Jackson Atlanta International Airport came in first place with 111 guns seized.
7. Let your kid defecate on the airport's floor
Mainland Chinese tourists are often popular when it comes to being annoying and unethical. A Taiwanese tour guide took a photo of a boy about to relieve himself on sheets of paper placed by his mother on the floor at the Taiwan airport.
8. The rage inside the airplane
And if you do, flight attendants won't think twice in restraining you with duct tape and plastic zip ties like what happened to this man in a Reykjavic-New York flight via Iceland Air. The man was reported to have gone disruptive, "hitting, screaming and spitting at other passengers, while yelling profanities". After the flight, the man was arrested but later on wasn't charged and transferred to a hospital.
9. Sing a song non-stop while in a flight
A Los Angeles-New York flight via American Airlines was diverted to Kansas City Airport after a woman wouldn't stop singing Dolly Parton's (covered by Whitney Houston for "The Bodyguard) "I Will Always Love You". The woman was detained and then released for further investigation. It was reported then that the woman told authorities her behavior was a result of her diabetes.
10. Leave your passport unattended
There's a story of a father who got stuck in South Korea after his son gave his passport a makeover. The photo was posted on China's social networking site, Weibo, and the story went viral around the internet world.
For some reason, the news was considered a fake, and the photo (the first one) was only edited. The same but more realistic story happened months before the viral news and you'll see that instead of a black ink pen, a crayon was used.
Hoax or not, be sure not to leave your passport anywhere, especially in places where kids can reach it.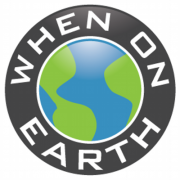 WOE Media
When On Earth Magazine is for people who love travel. We provide informative travel guides, tips, ideas and advice regarding places to see, things to do, what to taste, and much more for world travelers seeking their next dream vacation destination.