Acrobatic Waiters Perform Stunts With Your Food In This Bizarre Thai Restaurant
Ever seen "fast food" in action?
In an eccentric restaurant in the outskirts of Bangkok, Thailand, no other description comes close.
Ka Tron Restaurant, more popularly known as the "Flying Chicken Restaurant" features acrobatic performances by waiters that's sure to thrill your senses and excite your stomach. Order their top-of-the-menu best seller, the "Fly Chicken", and be prepared for a feat that got this obscure small town joint to the Top 10 Weirdest Restaurants in the World.
In the midst of an open-air courtyard surrounded by laid-back Asian restobar features such as videoke bars and fish tanks full of dinner grill candidates, lies a long metal platform where the one-of-a-kind performance would take place. Once your order is ready, two waiters get on stage: one loads your chicken onto a catapult and the other grabs a unicycle and some platters with skewers stuck on them—one in each hand, one on his mouth, and one attached to the helmet on his head. Then the catapult waiter sets your chicken on fire and launches it to the air to be caught by the unicycle waiter in a split second. Then the waiter, still on his unicycle, rides down the stage and delivers your order with flair.
Visitors report that the food isn't to die for, but the performance is definitely world-class. Since the restaurant opened in 1986, they've catapulted thousands of chickens, but miss on a rare occasiona. And for only 130 baht or $4 (with no extra charge for the performance), this meal is totally a bang for your cluck—I mean, your buck.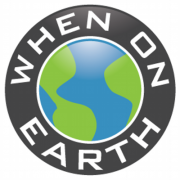 WOE Media
When On Earth Magazine is for people who love travel. We provide informative travel guides, tips, ideas and advice regarding places to see, things to do, what to taste, and much more for world travelers seeking their next dream vacation destination.