Taiwan's Modern Toilet Restaurant
Imagine a roomful of people slurping mushy brown goop out of toilet bowls and drinking out of urinals. Not quite your usual dinner set-up, but in certain parts of the world it actually is.
At Taiwan's Modern Toilet Restaurant, diners are served meals in miniature ceramic toilet bowls. Drinks are contained in urinal-shaped cups, and dessert is elaborately served in squat toilets. Tables are made of sinks or bathtubs topped with a thick sheet of glass. The restaurant itself is adorned with bathroom tiled walls complete with hanging shower heads and turd-shaped light fixtures. Napkins are avaiable in dummy toilet roll dispensers in the wall. Dishes are carefully designed to gross you out. Stews and hot pots are made intentionally mushy, and desserts have peculiar names: "hemorroid ice", "bloody turd", and "dystentery green" among others.
Certainly not for the squeamish, Modern Toilet challenges common sense, convention, and the strength of our stomachs.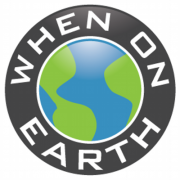 WOE Media
When On Earth Magazine is for people who love travel. We provide informative travel guides, tips, ideas and advice regarding places to see, things to do, what to taste, and much more for world travelers seeking their next dream vacation destination.